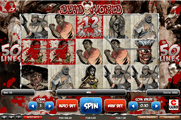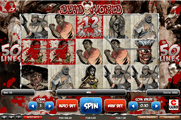 Dead World – The Zombie Apocalypse is Here
Dead World is one of the popular Caliber Comics that is all about the world that is ravaged by the Zombie apocalypse, it follows its protagonists as they travel across the scorched lands to survive and to search for food and shelter, just like The Walking Dead TV show. Of course, during all of that, they will slash through many brain dead zombies that get in their way. The game will take players into that undead dominated world as they join the main characters in their adventures.
The game has a comic book feel to it, thanks to the visuals and the symbols of the slot. All of the symbols and the reels are stained with blood, which makes sense, because when a world is taken over by zombies, everything is going to be stained and covered in blood. The game has plenty of winning chances, whether through its fifty lines, or the special icons that it has to offer to players.


Gaming Format and Symbols
Dead World has 50 lines that players will find scattered across the 5 reels of the game that host 3 rows of blood stained symbols. The entire gaming interface is inspired and affected by the zombie and comics theme of the game. This is why the entire reels look like a page torn from a comic book, and the symbols are stained with blood and include many of the characters from the comics and many zombies that are trying to eat brains spinning on the reels of the slot.
The gaming control panel is located in its usual place right under the reels where players will place their wanted bets as they toggle through the wagering variables that the slot has. These variables are the number of coins and the coin value, as for the number of lines, they are all active and it is fixed at 50.
Bonus Features and Symbols
The game has a wild icon, which is the zombie mummy warrior. She is going to substitute for other icons to aid players in getting paid. It will not replace the other special icons that the slot has. Speaking of the other special icons, there is the skeleton icon that gives the highest of rewards and scattered pays.
The last special icon is the zombie Hagraven. This Hagraven icon would trigger the bonus round of the game when players get a minimum of 3 Hagraven icons anywhere on the reels of the game. Players will claw their way to the bonus round so they can claim plenty of prizes.