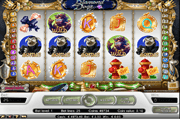 Diamond Dogs : A Comic Video Slot with a Witty Take on David Bowie's Glam Rock Album
Diamond Dogs video slot carries a title presumably borrowed from a David Bowie 70's glam rock album. Yet unlike Bowie's weird cover art for the album jacket portraying the rock star as a half-man, half-dog being, Net Entertainment's Diamond Dogs video slot, has an amusing and less bizarre theme.
The five-reel online slot with 25 selectable paylines has a cartoon illustration of a Pit Bull that comes on as a glam dog wannabe. Quite comically, pimping-up with blings could not hide its vicious-dog image. The caricature shows the canine's poor attempt to smile for the cameras with its display of terrifying fangs. Nonetheless, the Pit Bull icon hogs the limelight in this video slot by representing the game's Wild Symbol.
This Net Entertainment slot game suggests that the aggressive Pit Bull wants to take part in a dog show by competing with the certifiably glamorous Chihuahua, which by the way is the game's Scatter Symbol. After all, the perks and the amenities of being a glam dog look great as depicted by other Diamond Dogs reel icons. The VIP-marked fire hydrant, the homey doghouse, the diamond studded dog dish with a steak to boot, and the beribboned dog bone, comprise the slot's high-paying reel symbols.
The reel-spinning actions could take a funny but rewarding turn in the Celebrity Bonus Game. The Diamond Dogs Pit Bull icon finally gets a chance to hobnob with celebrity glam dogs in a dog show photo shoot.
Diamond Dogs Wild Symbol
The outlandish Pit Bull cartoon character is the Wild Symbol that slot players can use as replacement for regular icons. Watch closely when such an occurrence takes place in both the base and free spin games, because substitution actions tend to increase the likelihood of achieving multiple payline wins. Odd as the Pit Bull may seem, it is capable of rewarding players with as many as 10,000 coin credits for payline wins constituting five (5) Pit Bull Wilds.
Diamond Dogs Scatter Symbol and Free Spin Rewards
The stylish Chihuahua represents the game's Scatter Symbol and is quite generous with its rewards. Three or more Chihuahua Scatters in any spot pay rewards of 4, 25, and 100 coin multipliers respectively, plus ten (10) free spin bouts. All payline wins achieved during the free game pays twice the total bet amount placed on the spin that launched the free games.
Diamond Dogs Celebrity Bonus Game
The Celebrity Bonus game is a delightful quest for mystery coin rewards in a dog show photo-shoot session. Activated by the emergence of three or more Dog Photographer Bonus Symbols, the Celebrity Bonus Game is sure to bring extra pays. Clicking on any of the glam dogs, produces a photograph of the subject chosen that comes with varying coin rewards.
Clicking on a glam dog that produces a paw-print as photo, signifies the end of the Celebrity Bonus Game. All coins previously revealed goes to the bonus player as extra wins.
Diamond Dogs a Delightful Video Slot about Glam Dogs!
Diamond Dogs is a great video slot find! Who else but Net Entertainment would come up with an outlandish idea of presenting a Pit Bull posing as a glam dog in a hilarious Celebrity Bonus Game.