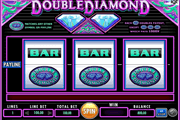 Double Diamond Online Slot by IGT, Classic 3-Reel Slot with Modern Pay-Boosting Features
Double Diamond is IGT's modern rendition of a classic 3-reel slot with a single payline. The reel icons, albeit classic-themed, are vivid and presented in visually appealing brilliant colors. Carrying the same game play of hitting three identical symbols on the lone center payline to achieve a win, this game has a Wild symbol that enables players to increase the possibility of forming a 3-of-a-kind match.
In keeping with the classic slot elements, the game makes us of the traditional Lucky Number Seven (7), the Single BAR/Double BAR/Triple BAR Signage, and the Cherry symbol. The Red Lucky 7 pays the highest value multiplier of 80x for a win. Followed by the Triple BAR symbol, which pays 40x the bet for a complete payline combo.
A Double BAR and a Single BAR combo pays 25x and 10x bet-value multiplier respectively. Three (3) Cherry symbols have the least bet-value multipliers of 10x.
This IGT slot is not a typical penny-slot type of game though, because the lowest bet possible is 100.00 denominations using currency preferred by a player. The maximum bet allowed is up to a 1,000.00. denominations.
Nonetheless, this Double Diamond slot has three (3) Special Wins brought around by the game's Wild Symbol, the Any BAR icon and the Cherry Symbol.
The Double Diamond Any-BAR Win
This pay-boosting special-win is a typical attribute of classic BAR symbols. Any BAR means that payline wins made of BAR symbols could be a combination of the Single BAR, the Double BAR and the Triple BAR icons. However, it has a minimal value-multiplier of 5x, which is relatively low if compared to identical BAR icon matches.
The Double Diamond Special Cherry Wins
The Cherry symbol also awards special pays, every time the symbol appears on the lone payline. The Special Cherry Win rule applies regardless of whether a matched combo was formed. A single Cherry icon pays twice (2x) the amount of the bet placed on the spin. Two (2) Cherry icons award players with pays calculated with a five times (5x) bet multiplier.
The Double Diamond 2x, 4x, and 1,000x Pay Rewards
The Double Diamond Logo is the Wild Symbol that stands-in for other reel icons in order to have a winning match. Moreover, one (1) Double Diamond Logo that forms part of a winning combo pays twice (2x) the bet placed on the spin that produced the matched icon. Landing on two (2) Double Diamond Logo as part of a winning match, pays 4x the payout value.
A player who has Lady Luck on his or her side, could get super lucky for hitting a three-of-a-kind Double Diamond Logo win, because the payout will be multiplied 1,000 times over.
Double Diamond Slot A Smooth One for a Three-Reel Classic
Double Diamond Slot by IGT is an excellent choice for those who prefer a straightforward single-payline, three-of-a-kind symbol combination win. No frills, no intricate payline rules but with a Wild Symbol and Special Symbol Wins!