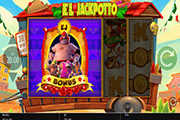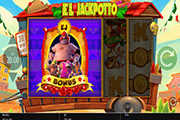 El Jackpotto Online Slot: The Luchador Hits Reels with Amusing Bonus Features!
El Jackpotto online slot by Blueprint Gaming presents an amusing Lucha-Libre-themed 20 payline content. It features a rotund Mexican salesman, aka El Jackpotto in the Luch Libre Ring. He spreads win-boosting elements to the reels in the most amusing ways.
At random instances, the Luchador emerges to modify outcomes of a base game spin. Changes may include additional Wilds, Stacked Wilds, Mystery Symbols or a Colossal icon. The modification that could bring the most exciting result is the Bonus Symbol Boost. After all, advancing to any of the Bonus Games, is sure to bring awesome Bonus Wins!


El Jackpotto Online Slot: Wild Symbol
The Red Chilli Pepper image serves as the Standard Wild icon. When a pair or a group of 3, 4, 5 Chilli Wilds converge as winning combination, the longest of the combi formed awards 2, 40, 100, or 500 credits. Corollary winning combinations completed by any of the Wilds in place, award payouts based on the paytable values of the principal symbol.
El Jackpotto Online Slot: Random Reel Modifiers
Occasionally, El Jackpotto gets the urge to pass gas; or give a sampling of his Chilli Sauce, Tomato Sauce or Mustard. Once the Mexican gives in to any of those urges, the outcomes of the related spin will undergo modifications by way of the following:
The Chilli Sauce Splash places several Chilli Wilds in random positions.
Tomato Sauce Splash – The Tomato Sauce carries Mystery Symbols and subsequently disappears to reveal a single type of identical icons.
Mustard Splash – As the splashed substance drips down, the entire column will transform into a full-reel Stacked Mustard Wilds.
Fart Shuffle – Green Gas spreads across reels, causing images and symbols to shuffle. Not for naught though, as the occurrence will result to one or more wins.
Bonus Boost In some instances, El Jackpotto's gas pass will enrich reels with multiple Bonus Symbols; increasing players' chances of activating the "Ultimate Luchador Bonus Round."
Colossal Fart – This gas-passing event brings on a huge 3 x 3 Colossal Symbol. If the Green Gas stays on the first three reels, the emerging Colossal Symbol is sure to bring multiple wins.
El Jackpotto : Bonus Games
The Luchador image of the Mexican salesman comes around as Bonus Symbol that can trigger the "Ultimate Luchador Bonus Round." Three or more initialises loading of the bonus game panel.
Landing on four Bonus Symbols, creates greater winning advantage. The least-rewarding "Spank the Ass" bonus game will be eliminated from the array. Landing on 5 Bonus Symbols is the most advantageous. It immediately sends a player to the ultimate Big Money Bonus Game.
The entire grid is a huge reel that spins to determine which of the following Bonus Games to award:
Spank that Ass Bonus – A Pick Bonus Game of selecting a Donkey Pinata to win instant cash rewards or entry to a more advanced bonus game.
Pound for Pound Bonus – Another Pick Bonus Game but presented in 3 Levels. Bronze, Silver, and Gold Lucha Libre Championship Belts are presented as corresponding Pick Choices for Levels 1, 2, and 3. Here, players collect cash rewards or even win a direct entry to the Big Money Bonus.
El Jackpotto Rocket Free Spins Bonus – This feature awards 5 Free-Spins in which El Jackpotto appears as a Rocket-bearing Luchador. The Rocket explodes and replaces random symbols with El Jackpotto Wilds.
Ready to Rumble Free Spins Bonus is a round of progressive free games. In the first stage, El Jackpotto contends with El Capitan, which is a Wild with Multiplier. If El Capitan gets hit by 3 Damage Symbols, a player advances to the next bonus stage.
The second stage contenders are El Nacho King, El Muscular, and El Pollo Diablo. All three fighters have special win-boosting attributes. Still, if El Jackpotto emerges as victor in the second stage, players will gain entry to the Big Money Bonus.
Big Money Bonus – Here, players will simply collect Ultimate Luchador Champion Bonus Symbols that reveal high-value Cash Prizes. However, if by chance one of the Bonus Symbols collected reveals a Collect prompt, the bonus feature ends immediately.