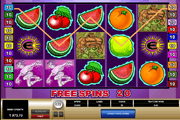 Elementals a Unique Video Slot Medley of Fruits and Elemental Beings by Microgaming
Elementals is a five-reel, twenty-payline video slot that comes on like a colorful patchwork of classic fruit images and mystical elemental beings. Sketches of fire, water, and air spirits and of a golem, represent the game's high-paying symbols. Combining those images with the fruit symbols emphasizes the significance of air, water, heat, and earth to healthy and productive life forms.
This Microgaming video slot features the usual Wild substitution actions, Scatter Pays and a Free Spin Bonus Round. The Autoplay functionality makes Elemental a good choice when looking for conventional video slot games with a modern feature. Add to that a Gamble option that players can activate if they to want add more excitement to their slot gaming.
The Elementals Wild Multiplier Symbol
This special symbol would be hard to miss since Microgaming used a straightforward but colorful WILD signage to represent this feature. Aside from its usual icon-substitution function for completing the required pattern of active paylines, the WILD symbols come with a built-in 2x multiplier. Denoting that the game pays double for all regular payline wins achieved with the help of the WILD Multiplier symbol.
Another rewarding attribute of the Elementals WILD is that landing on two or more of such symbols earn additional pays. The largest of which are 5,000 coins for a five-of-a-kind WILD logo occurring on any active payline.
The Elementals Scatter Symbol
The Scatter Symbol in this video slot is the icon that has equivalent coin rewards whenever two or more of those symbols appear across the reels. The game pays for scatter combinations regardless of the spot on which the symbols landed. The highest of which are 200 coins for a set of five Scatter Symbols occurring in both the base and Free Spin games.
The Elementals Free Spin Round
Bet-free spins are a boon, since a player earns extra rewards from a single spin action. In this Microgaming slot, a spin that returns with the special e-Sun Symbols on Reels 1 and 5, activates 20 free spins. All regular payline wins realized from the free spins are doubled, and are automatically added to the payout. Moreover, the e-Sun Symbols remain active during the free round and the re-occurrence of the symbols on Reels 1 and 5 re-triggers another set of 20 bet-free spins.
The Gamble Option
A player who is feeling lucky might want to add more thrills by trying out his or her luck with the Elementals Gamble feature. It is a simple card-color guessing game that allows a player to stake his or her latest winnings. Guessing the right color is a win and doubles the amount of winnings used as wager. He or she can roll the total winnings for four more rounds of the gamble game. However, an incorrect guess ends the mini card game because a player loses the entire amount gambled on the latest guess.
Elementals a Superb Microgaming Video Slot
Elemental video slot meets the superb qualities of earlier Microgaming game contents featuring Wild Multipliers, Scatter Pays and 20-Free Spin Game.