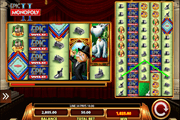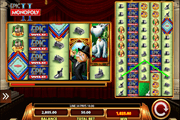 Epic Monopoly II – Sequel to the WMS Epic Monopoly Slot Title
Epic Monopoly II online slot carries on with the classic Hasbro Board Game that WMS Gaming developed as slot machine content for both land-based and online casino gaming. The Monopoly-themed reel icons are still presented as two sets of reel contents, one for the 3-row, 5-column Main Game Reels, and another for the supplemental 12-row, 5-column Colossal Reels.
Now running on the Scientific Games (SG) Interactive platform, this WMS Epic Monopoly II slot game offers as many as 100 paylines, and more chances of collecting cash rewards from a diverse selection of Epic Bonus Games.


Mr. Monopoly and his Scottie Dog appear as large-sized icons, occupying a full 4-tile high reel in the Main Game Reels, and an 8-tile high position in the Colossal Reels. The large size makes it easier for players to form matched payline combinations out of those two high-paying icons.
The Epic Wild and the Bonus Game Scatter Symbols consistently deliver special game attributes that give slot players increased chances of reaping more and/or greater rewards.
Epic Monopoly II – Epic Wild Symbol
The Epic Wild Symbol can form its own payline combinations. If the reels are running on a Max Bet per spin, it awards as much as 25.00, 50.00, or 250.00 for every 3, 4, or 5 Wilds appearing in a payline. The Epic Wild may appear as full-reel Stacked Symbols in both the Main Game Reels and Colossal Reels.
Epic Wild Duplication Feature In the event that a complete set of 4-tile high Stacked Wilds land as outcome of the Main Reels, the Epic Wilds will be replicated in the same column of the Colossal Reels as 12-tile high Stack of Epic Wild Symbols.
This special Epic Wild feature also occurs in the Free-Spins Bonus Game, but in ways more advantageous to Epic Monopoly II bonus game players. Epic Wild Stacked Symbols, with only one or more Wild tile in view in the Main Reels, expand as full-reel Stacked Wilds. Subsequent to the Wild Expansion action, the Epic Wild Duplication mechanism will then replicate the Stacked Wilds in the Colossal Reels.
Epic Monopoly II -Scatter Bonus Symbol
The Scatter Bonus Symbol appears in Reels 1, 3, and 5 in both the Main Reel and the Colossal Reel grids. Three or more Scatter Bonus Symbols appearing in any designated reels of the two slot grids, will activate the Epic Wheel Bonus Game. The Scatter Bonus Symbol also awards Scatter Pays equivalent to 10x, 50x, or 100x the Total Bet for every 4, 5, or 6 of such symbols appearing all together across all reels.
Epic Monopoly II Online Slot – Epic Wheel and Bonus Rewards
The Epic Wheel determines the Bonus Feature that a qualifying slot player will receive as reward. After a spin, the Epic Wheel indicator may land on any of the following Epic Wheel Bonus Rewards:
• Epic Cash Prizes of up to 500x the bet staked on two paylines;
• Epic Monopoly II Free-Spins Bonus Round comprising 7, 10, or 20 bonus spins;
• Around the Board– A Virtual Monopoly Mini Game awarding 2, 5, or 10 Dice Rolls. Each Dice Roll determines a bonus prize by landing on Monopoly elements that award a diverse range of cash prizes and/or additional chances of landing on more Monopoly prizes.
• Epic Chance Bonus Game – Here, bonus game players select one of 5 cards presented. The card selected may reveal and award a cash prize, or a set of 20 bet-free spins, a set of Dice Rolls on the Epic Monopoly II Board Game, or additional chances of unraveling more Epic Chance Bonus Picks.