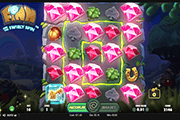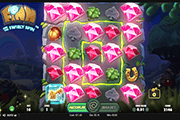 Finn and the Swirly Spin : NetEnt Introduces a Whole New Way of Winning on a 5 x 5 Grid
Finn and the Swirly Spin online slot by NetEnt presents a whole new way by which identical icons land as winning combinations. Rather than spin vertically in individual reels, elements with luck-o'-the-Irish motifs, move around a central position within a 5-row x 5-column grid. Each Swirly Spin moves elements to several positions in a clockwise motion. The objective is to bring the Key Symbol to the center, as doing so, unlocks the Free Round.
Match Wins are sets of three or more identical icons aligned horizontally or vertically. In some cases, vertical or horizontal Match Wins intersect. Symbols occurring as Match Wins subsequently disappear from the Swirl, which in the process free up some spaces. The top part of the reels receive a fresh set of images, while existing elements cascade to fill the gaps. As icons disappear, while others shift toward the center, the Key Symbol will be able to move closer to the center of the Swirl.

However, s Swirly Spin must result to a series of Match Wins. Only a series of continuing clockwise motions will bring the Key Symbol to the center position. Non-winning results will bring the Key Symbol back to its point of origin; at the Bottom of the leftmost reel.
It is also possible for a Swirly Spin to land two (2) Match Wins in a single row or column. Such outcomes are possible, if a Wild is in place to represent any regular paying icon.
Finn and the Swirly Spin : Wild Symbol
The Star icon represents the Wild Symbol. It may occur at random in any position, or appear after a win-event.
A Star Wild forming part of a Match Win tends to explode; destroying all symbols connected horizontally or vertically to it; except the Key Symbol of course. Yet in a non-Wild Win, 2 or more Star Wilds will replace the winning symbols that disappeared from the Swirl. Wild additions carry on for as long as new Match Wins transpire.
Actually, more Star Wilds may come around when occurring in connection with one of four (4) random features. .
Finn and the Swirly Spin : Random Win-Boosting Features
Any of the following four (4) random events may occur during a base game Swirly Spin:
Starfall Wilds – Two or more Star Wilds fall into the Swirl in a random pattern; or within a vertical or horizontal line. If placed along a line, the 2 Star Wilds take adjacent positions and in alignment with any existing Wilds. Starfall Wilds resulting to Match Wins will allow the feature to continue supplementing the Swirl with more Star icons.
Dragon Destroy – In this arbitrary event, a Dragon appears to destroy a random number of symbols. The subsequent avalanche of all remaining symbols comes with a guarantee that the outcome will produce at least one Match Win.
Irish Luck is a win-boosting feature that occurs if the Swirly Spin following a win-event did not produce any Match Win. To give players a chance to achieve a series of Swirly Spins, the non-winning outcome will be modified via the addition of a horizontal or vertical line-up of identical symbols.
Magic Transform is a win-boosting action that transforms all Spade and/or Heart Symbols in view, into a higher-paying element. The feature may or may not use the same type of icon in replacing all visible Spade and Heart Symbols.
Finn and the Swirly Spin: Free Games
This game has four types of Free Game to offer, although only one will be immediately available. The other types become accessible only after a certain number of Free Rounds have been played.
The Star Bar Free-Spins is the only unlocked bonus feature instantly available to qualifying bonus round players. It activates once a player succeeds in bringing one (1) Key Symbol to the center reel. Seven (7) Free-Spins come into play in a Swirl Board enhanced exclusively by the Starfall Wilds feature.
Lava Lair Free-Spins require bringing 4 Key Symbols to the center. Three (3) Free-Swirl Spins play on a Swirl Board enhanced exclusively by the Dragon Destroy feature. Moreover, a Sticky Gold Coin Wild occur as a regular Wild that does not disappear, or even cause other symbols to disappear.
Lucky Mug Free Games activate if nine (9) Key Symbols reach the center and award four (4) Free Swirls. The Irish Luck Feature powers up the Lucky Mug Swirly Board. The most frequently recurring symbol will be used as one-of-a-kind overlays guaranteed to bring at least one Matched Win.
Gold Pot Free Round – unlocks if 16 Key Symbols successfully make their way to the center. Although awarding only two (2) Swirly Spins, the related Swirl Board integrates the Magic Transform Feature that changes all Spade and Heart icons into higher-paying elements.