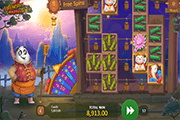 Fireworks Master Online Slot: Unique Multilayer Grid Presents a Challenging Icon-Matching Game
Fireworks Master is a multi-ways to win online slot to which games developer Playson, laid out Chinese-themed symbols in more than one set of reels. Each reel-set is placed on top of the other, creating a multilayer grid. The last or bottom layer contains bonus elements that can only be revealed when winning symbols, starting from the topmost layers, disappear. The base game playing field consists of four layers of symbols, while the Free-Spins Round plays on three layers.
Each base game spin furnishes three layers of varying images to cover the Bonus Symbol Grid. If the set of symbols that land on the first, second and third layer form groupings of matched icons, the winning images disappear. A series of win-events therefore gradually reveals and unblocks elements underneath. To which the ultimate goal for each spin is to reach the Bonus Symbols in the bottom layer. Revealing and collecting at least seven (7) Bonus Symbols uninterruptedly, activates the Multilayer Free-Spins Grid.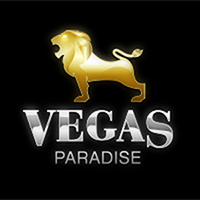 Overall Rating
PLAY NOW
Vegas Paradise
Welcome Bonus of $€£ 200 for all New Casino Players
Hottest Casino in the United Kingdom
Huge collection of online slots and table Games
Extremely High Payout Percentage
Monthly Promotions and Free Play
Three or more identical images occurring in consecutive reels, whether coming from the leftmost or rightmost reel are counted as winning arrangements. The number of win-ways available starts at 243. As win events unblock symbols in the next layers, the number of way-wins gradually increases. They may reach up to 720 win-ways in the Base Game, and up to 3,125 in the Free Games.
Fireworks Master Online Slot: Bonus Layer and Symbols
The Bonus Layer of a base or bonus game is always the last layer (the 4th or 3rd, respectively.) It contains mostly Lantern images, representing the Bonus Symbols. Also scattered across the bonus layer are "W" symbols that stand for Wild. When unblocked, a "W" icon can pose as substitute element in the same way as the Gold Panda Wilds that appear in the upper layers.
Although the Bonus Layer does not receive replacements with every spin, the Lantern and "W" icons shift positions during each turn.
Revealing a Wild that becomes part of an upper layer winning combination, increases chances of unblocking more Lantern Bonus icons.  Such an event is important because every Lantern Bonus Symbol revealed or unblocked, fills the Lantern Bonus Meter located on the top left of the screen.
Fireworks Master Online Slot: Free-Spins Round
Fireworks Master slot players need only seven (7) Lantern icons to activate the Free-Spins Round. Accumulating more is a boon, because the number of free-spins awarded, depends on the quantity of Lantern Bonus icons collected at point of activation. However, the Lantern Bonus Meter must fill through a succession of win-events. Otherwise, the Bonus Lantern Meter resets, if the most recent set of uncovered symbols do not result to at least one (1) winning combination.
During the Free-Spins Bonus Round, every revealed or unblocked Lantern extends the round with one additional bonus spin. Moreover, every Bonus icon revealed, activates the Fortune Wheel. The Panda Fireworks Master standing outside the slot grid, will then take charge of spinning the Fortune Wheel.
Fortune Wheel Bonus A spin of the Fortune Wheel brings on a guaranteed bonus prize. The Prize Indicator may land on Coin Wins or Round Win-Multipliers of x2, x3, x4, x10, or x50.
Fortune Wheel coin rewards multiply the current Bet staked. The Round Win-Multipliers, on the other hand, applies to all bonus wins upon completion of the bonus round.
Fireworks Master : Unique Multilayer Grid Containing up to 3,125 Ways-to-Win
Fireworks Master online slot furnishes up to 3,125 win-ways that can be gradually activated by uncovering symbols positioned underneath sets of reels constituting a multilayer grid. A winning arrangement may start from leftmost to rightmost, or from rightmost to leftmost columns. Winning symbols disappear, whist unblocking and revealing symbols laid out underneath. If a series of wins achieved thru a single spin succeeds in revealing and accumulating enough Bonus Symbols, the Free-Spins Bonus Round activates.