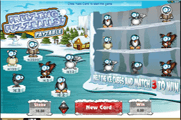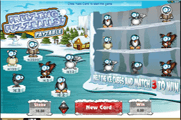 Freezing Fuzzballs Casino Game
Freezing Fuzzballs is a very entertaining game that is dedicated to all of the scratch card lovers out there. The game presents players with a very freezing theme as it takes players to the north pole and the arctic. Players will feel the chills as soon as they open the game and see the layout of the game that is dominated by the white color of ice.
On the right side, players will see an ice block that has three different rows. Each row has three small ice blocks. These blocks do not show what is inside of them. Before players can start melting these ice blocks to see what is in them, they will have to specify their wager. This wager will determine how many credits they want to place for each round of the game. Players will see an ice-encased cell at the bottom that has the word "Stake" on it. This is where players will be able to set their wanted stake. They will click on the + symbol and the – symbol in order to increase or decrease their wanted stake. The game has quite a variety in the stakes as it allows players to stake a bet as low as 0.50 credits and as high as 10 credits per round.

Players who do that will then click on the Red colored button in the middle that has the word New Card on it. Players will then be able to click on each ice block in order to reveal the fuzzball under it. Players who are able to melt three similar fuzzballs will be rewarded according to the paytable and their wager. The paytable can be found on the left side of the screen which will show players all of the different payouts that they can get to claim when they succeed in matching the icons.
So if you are a scratch card lover and want to put your luck to the test, then this is the best game for you. So get ready to travel to the northern hemisphere and join a group of freezing fuzzballs in a one of a kind gaming experience that is all about getting paid and matching icons. The game has wonderful visuals and sounds, and offers a one of a kind game play, which is not really a surprise since the game is powered by one of the biggest names in the industry, which is Microgaming.