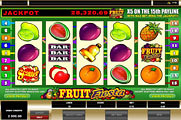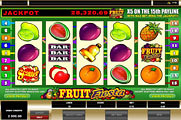 Fruit Fiesta 5 Reel Slots Online
Fruit Fiesta 5-Reel is the five reeled version of the highly popular 3-reeled progressive slot machine that has the same name. The game presents players with the same excitement that the old fruit fiesta games used to offer but this one comes in a more advanced setup, an exciting game play and an even bigger jackpot. The game has the same theme, which is reflected by the name of the game as it is themed around fruits. This is why as soon as the symbols start spinning, players will see plenty of fruits making their way on the reels. These fruits include oranges, water melons, plumbs, lemons, pineapples and apples. Other symbols include the logo of the game, the fruity scatter symbol, golden bells and colorful 7s.
Slots Online Paylines and Payouts
These symbols will land on the fifteen paylines that the game offers. Players can activate any of these lines or all of them by clicking on Select Line that is located under the reels in the control panel. Players can also place the biggest stake by clicking on Max Bet. Players will see the great amount of the progressive jackpot written in red in the Jackpot cell on top of the reels, they will also notice that it keeps increasing with every passing second whenever players in other casinos are placing a bet on the same game.
The game has plenty of rewarding line payouts that players can claim when they get combos of matching symbols on any of the game's paylines. Players will be able to check the different rewards and their respective combo of symbols at the pays table of the game. The paytable will also show them the special symbols, the jackpot symbols and other info about the game.
The logo of the game is a pretty special symbol. For starters, the symbol is responsible for giving the highest line payout as 2, 3, 4 and 5 of these symbols on the lines of the game will give players 5, 45, 450 and 9000 coins. The logo of the game is also a substitute icon which means that when it lands on the reels, it will aid players in forming better combos by replacing any other icons (except the scatter icon). Lastly, the logo of the game is responsible for activating the progressive jackpot of the game. This can only happen when 5 of these symbols land on the 15th payline of the game after players have placed the maximum bet. This is why at progressive games like this one, players are always advised to place the maximum bet to get a chance at hitting the jackpot of the game.
The other special icon of the game is the fruity scatter icon which has the ability to give out scattered pays when at least 3 scatters land on any location on the reels and the lines of the video slot machine.