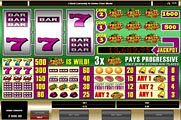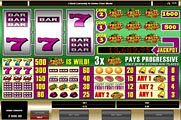 Fruit Fiesta Free slot Games
Fruit Fiesta is a classic slot machine that presents players with a nostalgic gaming experience that resembles the 3-releed classic fruit machines that they used to enjoy at bars and pubs around the world. The interface of the game, the buttons and even the symbols that appear on the game are all inspired by classic three reeled games. Despite being a 3-reeled game with one single payline, the game has plenty to offer to its players. This includes the high paying line payouts that players can earn when they get 3 matching symbols on the reels of the game or through the explosive progressive jackpot.

Free Slot Games Progressive Jackpot
The progressive jackpot's amount can be seen at the very top of the slot machine. The amount of the jackpot will keep increasing whenever a player places a bet on the game at any casino, this is why it is called a progressive game and this is also why players will see that the amount keeps increasing with every passing second. So if you are looking forward to enjoying a fun and an exciting 3-reeled game that is rewarding, then Fruit Fiesta Progressive Jackpot slot is the game you are looking for.
The symbols that spin on the game's 3 reels and 1 line are all inspired by the classic fruity theme, this is why the symbols include lemons, watermelons, pineapple, plums, sevens, the logo of the game, oranges, bar symbols and golden bells.
The game is powered by one of the best developers in the industry, Microgaming, therefore players can expect a user-friendly game interface and a game of high quality. Speaking of the interface, players will see the three reels of the game in the top left corner of the screen with one payline in the middle of the reels. The rest of the screen compromises of the paytable as players will see the different payable combos that will make them eligible for a reward as well as the game's special symbol, the logo of the game. This special symbol has the ability to substitute for any of the other symbols on the payline of the game to help players form a winning combo on the game's payline.
This special symbol is also the one responsible for triggering the progressive jackpot of the game. This will happen to lucky players who get three of these logos on the payline of the game. This is only possible when they have placed the maximum bet of 3 coins. This is why it is always advised for players to place the biggest bet so they can increase their chance of winning the jackpot payout.
The bets that players can place can be found at the bottom of the slot machine under the reels and under the paytable of the game.