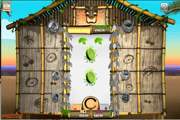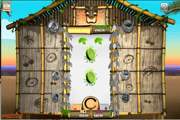 Fruit Loot : 3 Playable Slot Grids with Free-Games and Jackpots!
Fruit Loot is an online slot created by Concept Gaming exclusively for Leo Vegas online and mobile casino players. The game is playable with a Single Reel or standard 5-reel with 20-payline configurations. Actually, there are two types of Single Reel Slot offered as choices. One is configured with a top, middle and bottom row in which Winning Symbols, Non-Win Symbols, and/or Bonus elements come into view. The other is a straightforward single column that loosely displays a Winning Symbol, a Losing Symbol or a Leaf Bonus element.
Any selection allows a player to land on Bonus Symbols that activate the Wheel Game. A spin of the wheel presents a chance to enter one of 3 Free-Spin Games, or to win one of 3 Fruit Loot Jackpots. Another way of accessing the Bonus Features is by collecting Leaf icons as means of filling up a Bonus Trail.


Fruit Loot Single Reel Slot
To activate the Single Reel Slot, a player has to click on the Hut icon positioned at the top left of the screen. The selection process continues by choosing between A or B.
Single Reel A is similar to a classic 3-reel slot. Albeit columnless, the single space has three divisions:
• The first or top row; displays only Leaf images and the No-Win Symbol of the game. Leaf icons emerging in this row fill up the Bonus Trail Trellis on the right side of the slot frame.
• The second row is where Winning Symbols, including BONUS icons, take position along with No-Win totems.
• The third row, also displays Leaf elements only; dedicated to filling up the left side Bonus Trail Trellis.
Single Reel Slot B is a plain white space on which one or more Winning Symbols and Leaf images land as outcomes of a spin, along with No-Win icons.
The Bonus Trail Trellis – Once a Bonus icon next to the trellis takes on color, the feature it represents become available. Fruit Loot players may choose to play an active feature immediately, but not without resetting the Bonus Trail Trellis. On the other hand, one may choose to wait until the Bonus Trail Trellis is full. That way, all Bonus Features activated becomes accessible.
The simultaneous occurrence of 3 Bonus Game icons on any Single Reel Slot, activates the Bonus Wheel.
Fruit Loot 5-Reel Slot Configuration
The game play observed in the 5-reel grid is standard; requiring 3 or more identical symbols to land on a payline. Here, Wild Symbols represented by images of a Tribal Mask, come into view as eligible substitute icons.
This Fruit Loot gaming option though, requires Leaf elements to land in groups of 3, 4, or 5. The longest grouping advances positions in the Bonus Trail Trellis by 1, 2 or 3 respectively.
Fruit Loot Bonus Wheel Feature
Three BONUS totems simultaneously in view on any type of Single Reel Slot will activate the Bonus Wheel. The 5-Reel configuration requires a set of 5 Bonus Totems as trigger combination.
A spin on the Bonus Wheel will launch any one of the following Bonus Features:
One of three Free Games: the Regular, the Super or the Mega Free-Spins – In the Super or Mega Bonus Modes, the Wild Symbols come with a 2x or 3x  Wild-Win Multiplier respectively. When more than one Wild icon completes a payline win, the Win Multiplier value multiplies.
One of three Fruit Loot Treasure Chest Games: either awarding a Regular, Super or Mega Jackpot – Playing the game simply requires a player to accept or reject an Instant Bonus Offer. Accepting the offer ends the game immediately. Rejecting an offer allows players to vie for a greater Bonus Win. However, every offer rejected results to the removal of three Treasure Chest icons on the Game Board.