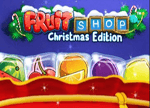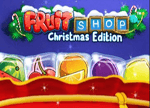 Fruit Shop: Christmas Edition Slot Review
Good news for the fans of the ever-popular Fruit Shop slot game! Net Entertainment has announced that it has developed a Christmas Edition of the game, which will be out for everyone to enjoy on December 1st! Fortunately, we have been able to get a sneak preview of the game, and have many of the great details to share with you now.
Fruit Shop: Christmas Edition is also five reels wide, and features fifteen pay lines, just like the original. If you are someone that likes to stick to one type of game, or even just one certain game, then this is definitely the game for you. It plays exactly like the original, just with a great holiday twist to it. If you are someone that loves to get into the holiday spirit as early as you can, playing Fruit Shop: Christmas Edition is one easy and profitable way to do it.
Playing Fruit Shop: Christmas Edition

The Christmas Spirit
Net Entertainment knew better than to mess with something that was already so popular, so the Christmas Edition plays much like the original, just with a holiday twist to it. The game's theme is Christmas, of course, and this is well represented not only from the holiday symbols and jolly music playing in the background, but also with the beautifully created snowman that acts as your own personal cheerleader on each and every spin. There is also a gaily lit Christmas tree on the opposite side of the screen.
Instead of just making all of the original symbols Christmas ones, Net Entertainment has gone above and beyond with the creativity and animation. Each of the reels is covered in snow, and instead of the original fruit symbols you'll find frozen fruit ice cubes that use the reels as a slippery slide. The game also has all of the original features that you appreciated from the original game. There are Free Spins, of course, which are activated when you get the appropriate number of symbols. These can also be stacked, allowing you to earn more free spins while you're already spinning free ones. Wild symbols are also here, which is definitely one of the most popular and sought after features, giving players the chance to win on a pay line without having all of the required symbols.