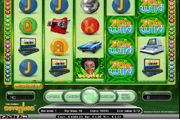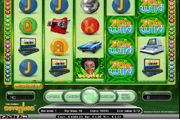 Funky Seventies Video Slot : Circa 70's-Themed Net Entertainment Real Money Game
The Funky Seventies Net Entertainment video slot could be a trip down memory lane for slot-playing baby boomers who came of age circa 1970's. The five-reel video slot with non-fixed 40-paylines, showcases symbols that could serve as mementos of how it was to be cool, stylish, earthy or soulful during the seventies.
Back then, it was hip to wear super-high platform boots carrying the stars and stripes motif of the American Flag. Funky music played via cassette tapes, while disco ball-adorned disco parties meant nightlife excitement.
The seventies was also the decade when computer technology development was already in the microprocessor level, which saw the beginnings of smaller computers. Toys had become more creative and imaginative like the 3D viewfinder. Sports cars like the 70's Chevrolet Camaro with its distinct stripes on the hood became mainstream successes among car enthusiasts.
The Funky Seventies video slot, as a form of entertainment, aptly focuses on the good things that came around during the decade. As a real money recreational gambling medium, this Net Entertainment game possesses attributes that could make the nostalgic trip down memory lane a financially rewarding experience as well.
The Funky Seventies Stacked Wild Symbols
The 70's Wild Logo icons randomly appear stacked in a single reel. The possibilities could be astounding, since multiple Wild substitution actions could create multiple matched payline combinations. By itself, it also forms winning combinations when appearing in an active payline. Getting five (5) of the 70's Wild icons lined up in an enabled payline brings as many as 1,000 coin-rewards.
The Funky Seventies Scatter Symbols
The game's Scatter Symbol is the beaming image of an African American female sporting the popular hairstyle and make-up of the seventies. Three (3) Scatter Symbols occupying any spot across the reels pay cash rewards equivalent to 2x the amount of the total bet.
Moreover, three Scatter Symbols landing on any section of reels two (2), three (3) and four (4), trigger the launch of five (5) bet-free spins.
The Funky Seventies Free Spins Round
All wins achieved with each of the five (5) free spins also pays twice the value of the total bet, multiplied by the corresponding number of coin credits carried by the symbol that formed the payline win. Both the Wilds, including the Stacked Wilds and the Scatter Symbols continue to come into view in the free games. Their appearances denote not just greater opportunities of completing numerous payline wins with one spin. The occurrence also triggers the re-launch of another set of five (5) bet-free spins.
At the end of the free game, the Funky Seventies video slot will add to a player's current winnings, all active payline wins and Scatter Pays earned. The bet value used would be the total amount staked on the spin that launched the bonus spins round.