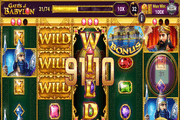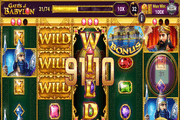 Gates of Babylon Online Slot: Game Changing Gold Coin and Wild Collection Features Can Bring Amazing Wins!
Gates of Babylon by Oryx Gaming showcases the ancient Mesopotamian City, referred to by the Akkadian Empire as the "Gate of God." The name Babylon is said to be a derivative of the  Akkadian word "bavilim", which meant gate of gods. In this 40-payline icon-matching game, Gold Coins can bring significant changes. It is a special icon that serves dual purposes: as Extra  Wild and as a Collectable Symbol working toward the activation of the Wild Column Feature.
The regular WILD emblem, on the other hand, are collectable elements linked to four types of Missions. Each Mission type entails collecting a specific number of Regular Wilds in order to garner a bonus prize. The rewards of a completed Mission are based on a special Paytable that specifies the Total Bet Multiplier, bestowed as reward for collecting a corresponding number of WILDS.
Actually, Wild Collection Missions are side features that allow players to earn additionalĺy from Wild Symbol occurrences. On its own, a Wild is already potent. It can complete combinations of alike non-Wild elements by posing as a joker card. At the same time, Wilds occurring severally in a paying line, can also organise a winning combination. Like regular reel elements, 3 4 or 5 Wilds forming a payline win, garner a payout: 50x, 150x or 500x, respectively.


Gates of Babylon Online Slot: Wild Column Feature
Single-cell and/or Stacked Regular Wilds may appear in any column at random occasions. Yet in Reels 1, 3 and 5, a full-column of Stacked Wilds take place as reward for completing a Ruby Collection. Although Gemstones emerge as low-win reel elements, collectable Rubies emerge only whenever a Gold Coin appears.
Take notice of the Ruby Containers at the top of Reels 1, 3 and 5. Once a Container fills with 3 Rubies, the corresponding Reel completing the collection takes form as a Wild Reel. At the same time, the transformation sets off the Wild Column Feature.
Wild Column Mechanics
When a reel turns into a Wild Column in connection with the completion of a Ruby Collection,  all Wilds covering that reel will stay sticky for a while. On every spin following a Wild Column transformation, a Ruby will be taken. Removal of all Rubies in a Collection Container signals the end of the Wild Column Feature. Not unless, another Gold Coin appears and replenishes the container with additional Rubies.
A Bonus Symbol emerging in Reels 2 and 4, will be visible even if those reels are currently in a Wild Column Mode. This means that by way of a single spin, the Gates of Babylon Bonus Round and the Wild Column Feature, may trigger simultaneously.
In such instances though, only the Bonus Feature will transpire; preventing a Wild Column transformation for that particular spin. Nonetheless, once the game advances to the Bonus Level, Gold Coins will continue to emerge and produce Rubies for Reels 1, 3 and 5 of the Bonus Game grid.
After completion of a free bout, base game spins will resume from where it left off; including previous Ruby Collections and existing Wild Column status.
However, take note that Wild Symbols generated by the Wild Column Feature do not count as collectable elements contributing to a current Wild Collection Mission.
Gates of Babylon Online Slot: Wild Collection Mission
Slot players have four (4) types of Wild Collection Missions to choose as preferred base game feature. Each requires collecting a specific number of Wild Symbols that will appear during a set number of paid spins.
The four (4) Missions and their requisites are as follows:
Bronze Mission – Requires collecting 44 up to 180 or more Wilds via 30 paid spins, to collect a Bonus Prize ranging from 5x to 50x the Bet.
Silver Mission – In a span of 50 paid spins, a collection of 74 Wilds at the least, up to 250 or higher, can bring a cash bonus ranging from 10x to 100x the Bet.
Gold Mission – A minimum of 110 Wilds up to 330 plus, collected after 75 or less paid spins, awards a Mission Prize equalling 12x up to 400x the Bet.
Platinum Mission – Collect 155 Wilds at the least, or up to a high of 425 or more with 100 spins, to garner a minimum cash bonus equal to 15x the Bet, up to a maximum Mission Bonus of 1000x the Bet.
The "paid spin" description gives emphasis that Wilds emerging in connection with the Wild Column transformation, do not count as collectable units. The rule also applies to Wilds collected during Free Games
Once a player succeeds in completing a mission, he or she may continue with the current type, or select another kind of Mission.
Gates of Babylon Free Games
Bonus Symbols distinguished by the Babylon depiction, trigger 10 Free Games if 3 or more are  simultaneously in view. The triggering Bonus Combo also awards an instant bonus reward of 3x the current Bet.
During bonus bouts, every Silver Coin landing on Reels 2 or 4 adds one (1) Extra Free-Spin.
Gold Coins working toward the Ruby Collection for Reels 1, 3 and 5 will continue to appear. This time though, a corollary Wild Column Feature plays on a different level. All Wild Reels that transpire after completing a Ruby Collection, lock in place until completion of the ongoing Gates of Babylon Free Round.