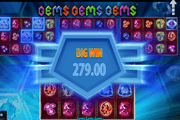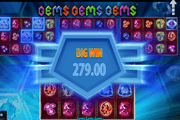 Gems Gems Gems Online Slot: 4 Reel Sets That Replicate All Wilds and Bonus Symbols in Same Positions
Gems Gems Gems online slot by WMS/Scientific Games, delivers an icon-matching challenge via 4 Reel Sets that furnish a total of 80 paylines. Running simultaneously on every spin, each Reel Set has 20 paylines on which symbols land as matched groupings. A single spin therefore may yield several and different winning outcomes in one or more Reel Sets.
This game boasts of a Super Multi-Pay Feature that all the more increases chances of hitting multiple payline combos with one spin. Any Wild or Bonus Symbol emerging in the large Main Reel Set, replicates in the 3 smaller Reel Sets. All 3×5 grids therefore will have Wilds and/or Bonus Symbols in similar positions. Such occurrences create win-boosting impact on all reel outcomes. After all, Wilds act as joker cards. They can represent any regular symbol for purposes of completing a payline pattern. On the other hand, a gathering of 3 Bonus Symbols in any Reel Set, sets off the Free-Spins Round.
Greater still is that every Gems Gems Gems Bonus Grid, applies a Bonus-Win Multiplier. If after a paid spin, more than one set of reels display a trigger combination, a higher value Multiplier will be awarded.


Gems Gems Gems Wild Symbol
The Gems Gems Gems game logo lands on any reel as Wild Symbol. When combining with identical images as contents of a paying line, Wilds count in the appraisal of winning combinations.
Wild Symbols that complete a 3, 4 or 5-of-a-kind payline win pay generously. The longest Gems Gems Gems union occurring as winning combo, awards a cash prize equal to 80x, 160x or 400x the amount wagered per line.
Remember, any Wild Symbol landing on the Main Reel Set replicates in a similar position in the 3 sub-reel sets. Chances of striking winning Wild combos improve. The smaller reel sets, after all, are capable of generating Wild Symbols on their own.
Gems Gems Gems Super Multi-Pay Feature
The Super Multi-Pay Feature occurs only during base game play. All Reel Sets produce Wild Symbols and Bonus Feature Tokens independently. So if Wilds and Bonus Symbols appear massively in the larger Main Reel, outcomes of the smaller grids improve. The feature will bring on additional Wilds and/or Bonus Symbols to all 3 smaller sets of reels.
However, if a sub-reel displays 2 Bonus Symbols as a result of the Super Multi-Pay Feature, only one per reel, counts as component of a trigger combination. This rule is significant because the number of bonus icons activating the free games, determines the amount of cash bonus awarded upon activation.
Gems Gems Gems Free-Spins Bonus Round
A shimmering Blue Gemstone adorns the Bonus Feature Symbol. A scattering of three (3) or more Blue Gemstones occurring in any Reel Set, unlocks a round of 10 Free-Spins with a 3x Multiplier. Hitting 4 or 5 is better, since an instant cash prize equivalent to 1x or 2x the current Total Bet will be awarded.
If by chance more than one Reel Set produces a Bonus Feature trigger-combo, the Multiplier Value increases. Two, three or four Reel Sets involved in activating the bonus game, unlock a 6x, 9x or 12x Bonus-Win Multiplier, respectively.
The Bonus Round carries on via a single 3×5 grid.