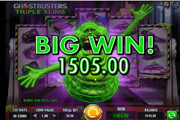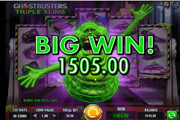 Ghostbusters Triple Slime Online Slot : Ghostbusters-Theme Goes MultiWay Xtra with 720 Ways to win Both Ways!
Ghostbusters Triple Slime is the second IGT online slot themed after the popular 1984 supernatural comedy movie featuring three (3) parapsychologists portrayed by Bill Murray. Dan Aykroyd, and Harold Ramis. This time though, players are presented with 720 MultiWay Xtra Ways to win on matching reel elements. Identical images returning as outcomes of a spin in consecutive positions, whether starting from the leftmost or rightmost reel garner corresponding payouts. Stay Puft, the lumbering Giant Marshmallow Man graces the slot screen with its presence by acting as Wild Symbol.
Instead of rewarding players with a round of bonus spins and instant pick prizes, IGT incorporates two (2) Bonus Wheel Games in this new Ghostbusters slot edition. In both Bonus Wheel features, players can land on more than one Wheel Prize, and/or from more than one Bonus Wheel with just a single spin. One of the Bonus Wheel Games even includes a Wheel containing Multipliers that further increase the prizes gained.
Aim to land on the Ghostbusters Business Logo as it awards the highest pay equivalents. Three, four or five Ghostbusters Logo lined up in adjacent reels, correspondingly earn players coin credits of 2000, 5000, or up to 10,000.


Ghostbusters Triple Slime Online Slot: Wild Symbol
Stay Puft, the paranormal marshmallow monster poses as wild card in this game. The image emerges only in Reels 2, 3, and/or 4, which are actually strategic positions considering that this game evaluates a winning arrangement both ways. A Stay Puft Wild when landing next to any group of matching icons, whether starting from leftmost or rightmost reel, can easily complete, or even lengthen a paying arrangement.
Ghostbusters Triple Slime Online Slot: Slimer Scatter Bonus
Slimer the foul-smelling green vapor appears in any reel and transforms into Bonus Wheels when at least three (3) of the image appear simultaneously. Actually, there is a chance of landing on up to five (5) Slimer Bonus Wheels. The more the merrier, as every reel contains a Slimer Bonus Wheel with a different range of prize rewards.
• Reel 1 Slimer Bonus Wheel prize wedges are coin wins ranging from 10 to 100.
• Reel 2 Slimer Bonus Wheel awards 15 up to 250 coins.
• Reel 3 Slimer Bonus Wheel prize range increases, awarding 25 up to 500 coins.
• Reel 4 Slimer Bonus Wheel coin rewards are even bigger, ranging from 85 to 100.
• Reel 5 Slimer Bonus Wheel awards a fortune, as coin prizes range from 100 to 2000.
All Slimer Bonus Wheels spins simultaneously. Once the contraptions come to a stop, the entire lot of coin prizes on which the three (3) Bonus Wheels land will then be awarded as Scatter Prize. The coin value staked as bet on the spin that triggered the feature multiplies the sum of all Scatter coin bonuses.
Ghostbusters Triple Slime Online Slot: Triple Slime Bonus
The Triple Slime Bonus segment activates when three or more Ghost Trapper machines are in view after a spin. A panel presenting Green, Purple and Red Bonus Wheels will be revealed. However, before commencing with the game proper, players pick from an array of Ghost images to reveal and collect Green and Purple Wheel Pointers. Again, the more the merrier, since the more Pointers revealed for each bonus wheel, the greater the number of coin rewards to collect.
Still, if a player reveals more than three (3) Green Wheel Pointers, the fourth pointer will award a fixed 250-coin prize. The same is true for the Purple Wheel Pointer, to which a 4th revealed Purple Pointer will award a fixed 100-coin prize. A lucky Ghostbusters Triple Slime player, who gets to reveal more than four (4) Purple Wheel Pointers, automatically receives 200 coins as fifth (5th) coin prize.
On the other hand, in the event a player failed to reveal even a single Green or Purple Wheel Pointer, the Center Pointer of the corresponding reel will be awarded as Bonus Prize Pointer. The Red Wheel is exempt from the selection process as it awards only one (1) Multiplier.
After spinning simultaneously, the sum of all coin prizes won from the Green and Purple Wheels will be multiplied by the Value-Multiplier on which the Red Multiplier Wheel Pointer lands.