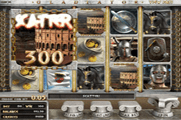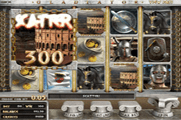 Gladiator Free Slots Review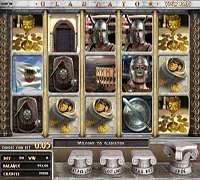 The Gladiator free slots game by Betsoft tells the story of an army general who was betrayed by the king's son. He sends people to kill him but he manages to escape only to find himself being thrown into the slave market and becomes a gladiator. He goes to Rome to perform in front of the king's son who became the king and joins in a political plot in order to overthrow him and bring back Rome to the people. Players will join the Gladiator during his adventures as he tries to reclaim his place and help him give Rome back to the people. During this adventure, players will enjoy an action packed ride, as well as a chance to claim their own share of the golden fortunes and treasures that the Great Roman Empire is well known for.
This is a Betsoft 2D online slot game with brilliant graphics depicting the daily life of the Roman Legionnaires.  Players will find themselves drawn into the fast-paced, reel spinning action with sweet bonuses and high dollar wins.
The symbols include a roman shield, a roman queen, a sword, stacks of golden coins, other weapons, the coliseum and the roman door.  Some of these symbols, the high paying ones, will turn into live animations when they are a part of a winning combination of symbols. The game has five reels and paylines. All of the symbols comes in 3D visuals, which is not a surprise since the game is powered by Betsoft. These symbols can turn into animations when they are a part of a winning combo of matching symbols, or when symbols trigger a bonus feature. All of this adds to the authenticity of the experience and promises players a visually entertaining and an immersive gaming experience like none other, courtesy of Betsoft gaming.
The Roman Queen is the game's wild symbol. Apart from substituting other symbols, it has the ability to triggered a very rewarding feature that is entitled "Wild2x". This feature will turn the queen into an animated live queen who will dispatch roses and when these falling flowers get in contact with symbols, these symbols will become wild. Any winnings accumulated by this feature are multiplied by two. Another bonus is called the Battle Round Bonus. This game is triggered when the gladiator symbol and the coliseum symbol appear in specific positions on the reels of the game.