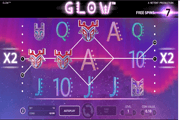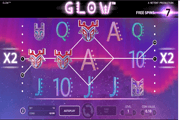 Glow Online Slot – Awards Free Spins with Every Payline Win
Glow is a mesmerizing Nordic-themed NetEnt online video slot with 15 payline opportunities. Popular Norse animal totems are set against a background depicting the natural glow projected by the renowned "Aurora Borealis" or "Northern Lights." The depiction gives the online slot a visually attractive and relaxing appeal, whilst presenting numerous opportunities for hitting bet-free payline wins!
Here, the totems of animal spirits land as matched combinations in any of the game's 15 fixed paylines. Called fylgjur ("FILG-yur") in Old Norse, the spirit of animals usually of a bear, reindeer, boar, wolf, goat, or raven is regarded as a representation of forebears, guardians, and/or patrons.

The highest paying Glow icon is the Reindeer Totem, as it symbolizes advantage or opportunity. A five-of-a-kind Reindeer grouping emerging in a payline, awards as many as 2,000 coins. The game pays even for just a pair of Reindeer totems appearing in any payline.
The Bear Totem represents the game's Wild Symbol. It automatically doubles the payline rewards for any wins completed with Wild substitution actions. Wild Wins achieved by a bet-free spin award greater pays, because all Free-Spins payline wins including the double-paying Wild-Wins pay twice as much.
Glow Online Slot Free-Spin Rewards
In the base game, matched combinations of animal totems trigger a double-paying free turn.
It is a different story altogether during a free turn bout, as all Glow payline wins including those formed by the A, K, Q, J and 10 icons trigger additional free-spins. Moreover, the greater the number of matched symbols landing as payline wins, the higher the number of free spins triggered.
The Bear Wild Symbol awards +1, +1, +2, or +5 additional bonus spins for every 2, 3, 4 or 5-of-a-kind Wild Win combinations, correspondingly. The rest of the icons add 1, 2, or 5 bonus spins for every 3, 4, or 5 like-symbol groupings.
As mentioned earlier, all free-spin wins pay twice the prize amount of the winning symbols. Wild Win combinations pay double in both the base game and free-spins play, and then doubled anew if part of the total free-spins wins.
According NetEnt's Glow game info, slot players could win as many as 94,600 coins as rewards.
Glow Online Slot Betting Options
All 15 paylines are in play during each spin. Glow slot players may place one (1) or more, up to a maximum of 10 coins on every payline. The total bet per payline constitutes the number of coins staked per line and the coin value selected. The available coin values range from 0.01 to 1.00, which when multiplied by the number of coins and by the 15 paylines will be the total bet amount staked per spin.
The minimum bet per spin is 0.15 (0.01 x 1 coin x 15 paylines), while the maximum bet per spin is 150.00 (1.00 x 10 coins x 15 paylines.)