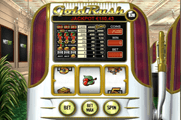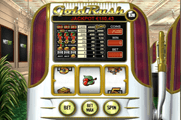 Gold Rush a Classic 3-Reel, Single-Payline, Low Stakes Slot by Net Entertainment
Gold Rush video slot has the most conventional format of a Net Entertainment three-reel classic. There is only one payline on which to stake bets as low as 0.20, and uses traditional images such as Cherries, Red Seven (7), Gold Five (5), Gold Mine Cart, BAR, and the ANY signage. Nonetheless, Net Entertainment added simple enhancements and a Progressive Jackpot to raise the level of excitement when playing this online video slot.

The highest paying reel symbol is the GOLD RUSH Logo. It is also the symbol that could activate the release of the current Progressive Jackpot, once three (3) of those, line up as matched symbols right in the payline. However, the Progressive Jackpot is available, only if the game is played at Bet Level 3.
The Gold Rush Game Play
This Net Entertainment classic Vegas-style slot is well loved and widely played for its very simplicity. Land a spin outcome showing three (3) identical symbols in the center, right next to the arrow-tip indicator, and voila! A payline win is achieved!
Not all payline wins require identical symbols, since Net Entertainment added the ANY signage. Two (2) of those icons plus one (1) Gold Mine Cart makes a payline win. Again, the equivalent coin rewards for each symbol depend on the Bet Level by which the game is played. The basic payout rule follows the 1x, 2x, and 3x multiplier for Bet Level 1, 2 and 3, respectively.
Nonetheless, Net Entertainment made it easier and quicker for Gold Rush players to check their winnings after every spin. The Paytable shows the total winnings per Bet Level and the equivalent rewards for every three (3)-of-a-kind match, including the ANY-ANY-Gold Mine Cart combination. Moreover, the COIN Credits and WIN indicator boxes are presented next to the Paytable itself. The presentation stands in contrast to the traditional bottom screen presentation found in mainstream video slots.
Three-Level Betting Options
As mentioned earlier, Gold Rush has only one (1) payline but offers three betting options that allow players to double, or triple the 0.20 coin value available. Bet Level 1 represents the lowest at one coin, or 0.20 staked on the lone payline. Bet Level 2 means placing two (2) 0.20 coins or a 0.40 stake, while Bet Level 3 triples the number of 0.20 coins or a 0.60 wager, all placed on a single payline.
To increase the Bet Level, a Gold Rush player simply has to click on the BET button until the BET Box indicates the desired bet level number. Take note of the paytable above the screen, showing the three (3) payout columns. Each column lights up accordingly based on the Bet Level selected.