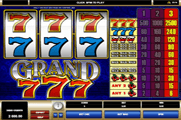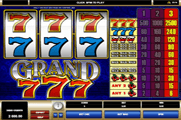 If you are tired of trying to make sense five reel slots, give Grand 7's a try. There's only three reels, and one measly pay line on this game, so you won't get headache from trying to make sense of the confusing pay tables on other games. If you prefer games that give you bonuses and have extras to increase your chance of winning, this is a good match for you. It's really easy to figure out when you've won, even if you don't have the sound effects turned on. If you have three matching symbols, you win. Of course, 3 red 7's win you more than 3 cherries, but a win is a win. You'll also be a winner if you get three like symbols. That is to say, if you get three bar symbols, even if they're all different, you still win. You can get to see the different payouts that the game has through the paytable. This paytable is on the main screen of the game at all times on the right side. it shows players what they will get in rewards when they manage to get 3 of the game symbols on the payline of the game, It also shows them the different payouts that they will get if they have placed a 1 coin bet, a 2 coin bet or a 3 coin bet before spinning the reels.

Sure, it's missing the different wild symbols and things that trigger bonus games, but it does have a scatter symbol. This can easily be the difference between a win and a loss, or even between winning and barely missing a jackpot. Scatter symbols are one of those things that you don't really realize how beneficial they are until you hit a big win that you most likely wouldn't have without it.
The color scheme is pretty basic too. Grand 7's sticks to a primary color theme, but with a luxurious twist. Yes, it's red, blue and yellow, but the depth of the colors reminds you more of jewel tones and golds than the color will from your elementary classroom. Therefore, the game succeeds in creating a one of a kind classic experience that is pretty nostalgic. The game reminds players with the classic slots that they used to play at pubs and land based casinos. This is why players will see 7s, cherries and bar symbols spinning across the reels and the line of the game.