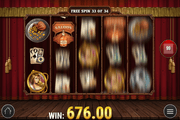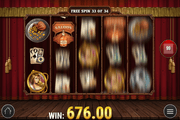 Gunslinger Reloaded : Bounty Hunt Game and Shoot the Cards Feature Reloaded with Bigger Surprises
Gunslinger Reloaded breathes new life into a 2016 Wild West-themed online slot released by PlayN'Go. Aesthetically, illustrations and animations received enhancements to give the reel elements and background, sharper and clearer resolution. After all, this game has been ported in order to make it accessible for mobile gaming. More importantly, the "Bounty Hunt Game" and the "Shoot the Cards Jackpot" feature now have exciting surprises to offer.
Generally, all other attributes that make this game attractive for online slot play remains the same.
Gunslinger Reloaded Online Slot: Special Symbols
Wild Symbol – Images of a Bounty Hunter remain usable as Wild Cards that can complete, or lengthen organisations of one-of-a-kind icons into winning arrangements. If by chance a spin yields a 5-of-a-kind win composed of Bounty Hunter Wilds, such outcome draws a payout of 10,000 win credits.
Scatter Symbol – The bounty hunter's spirited Horse, on the other hand, is a Scatter element that simply rewards players with a Scatter Bonus. A scattering of 2, 3, 4 or 5 Horse icons emerging via any spin, respectively awards a cash value equal to 2x, 3x, 15x or 150x the current Total Wager.


Bottle Bonus Symbols – Continue to anticipate outcomes that simultaneously display 3 Bottle Symbols, as this marks the beginning of a free round. This icon emerges only in Reels 2, 3 and 4.
Wanted Poster -Let imaginations run wild once a spin produces 3 Wanted Posters in Reels 1, 3 and 5. At that point, Gunslinger Reloaded slot players will role-play as a bounty hunter in the "Bounty Hunt Game."
Playing Card Symbols – Pay attention to one-of-a-kind winning combos of an A, K, Q, J or 10 Card Symbol. Assembling a collection of wins achieved by those elements, sets off the "Shoot the Cards Jackpot Game."
Gunslinger Reloaded Online Slot: Bounty Hunt Bonus Game
In this revamped edition of the Gunslinger online slot, the Bounty Hunt Bonus Game carries on with the following 5 Pick stages.
Stage 1 : Choose an Outlaw – Randomly choose between Jessie Pickett, Butch Curry and Wild Bill by shooting at the Wanted Posters. Those criminals correspondingly reveal a 2x, 3x or 4x Win Multiplier. As players proceed to the next Bounty Hunt stages, the Multiplier revealed here, will increase win-credits won in each stage.
Stage 2: Choose a Bottle – Start the chase by shooting at one of 3 Bottles left by the fleeing outlaws. The action randomly determines the win credits won in this stage.
Stage 3: Choose a Knife – The chase leads to a stable where a player chooses one of three (3) knives in order to reveal his or her bonus win for this level.
Stage 4: Choose a Dynamite – Dead or Alive, a fallen criminal draws out a bonus pay. Players can collect a random reward in this stage by choosing one of 3 Dynamites.
Stage 5: Choose a Move – Players finally come face to face with one of the outlaws, as a gunfight is about to ensue. Choose the move that the criminal will make in order to bring him down. If a player's choice matches the outlaw's final gunfighting stance, he or she gets to win an Extra Bonus Prize.
Gunslinger Reloaded : Shoot the Cards Jackpot Game
During base game spins, complete a collection of win events composed by at least one (1) winning one-of-a-kind combo of A, K, Q, J and 10 Poker Cards. Doing so activates the "Shoot the Cards Game" from which a locally Progressive Jackpot could be won. The pooled money will be awarded if the 5 Cards laid as random Poker Hand, all comes with a Sheriff Star.
If otherwise, participating Gunslinger Reloaded slot players can still claim all win credits displayed by each card.
Gunslinger Reloaded Free Round
Fire at one of 3 Free-Spins Bottles that activated the Free Round to establish the number of bonus spins that will roll as free play. The number of spins awarded is anywhere between 10 and 25. The round may extend if another set of 3 Free-Spins Bottles settles on Reels 2, 3 and 4. In fact, it is possible for players to retrigger a round repeatedly via a single bonus session.
Thankfully, this Gunslinger Reloaded online slot retained the double-paying attribute of the free round. Here, all winnings garnered by way of matched payline combinations increase 2x.