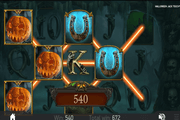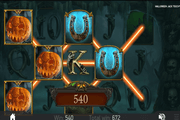 Halloween Jack Online Slot: Walking Wild with Respin Feature Pays 3x on Wild Wins
Halloween Jack online slot by NetEnt weaves a scary tale about a young woman entrapped in a dark world through the machination of a mysterious Jewelry Box. She now appears in this Halloween-themed slot as a high-paying Vampire; awarding 20, 200 or 1000 credits on a 3, 4 or 5-symbol payline win organized by her image. Still, slot players who tag along with in her stark reel-spin journey, can expect to receive bounties. During haunts, those brave enough to come face to face with a sinister Jack-o-Lantern, gain chances of receiving more than the standard pays.
The arrival of a Jack-o-Lantern, can create a rewarding impact. It is a Walking Wild that stays on, whilst setting off respins when wending its way out of the grid. As the Jack-o-Lantern Wild shifts position on every Respin, it can complete winning combos by posing as eligible representative of any regular element. Winnings yielded during Respins, increase returns gained on the spin that let in the Jack-o-Lantern. Moreover, winnings triple (3x), if garnered via combinations completed with the help of the Jack-o-Lantern Wild.
Walking Wild events happen not only during base plays. If a Scatter Combo of the Mysterious Jewelry Box sets off a web of Halloween Jack free games, the Walking WIld Respins will still transpire; carrying on in the same way they do during base game spins. Moreover, the free round comes with a Jack-o'-lector Feature designed to make the haunting mission more rewarding. It entails collecting a special glowing Lantern in order to unlock 3 types of Stacked Wilds.


Halloween Jack Online Slot: Wild Symbols
The evil-looking, but generally rewarding, Jack-o-Lantern is a Walking Wild Symbol that emerges on any reel. Once in view, it continues to haunt the grid with its presence by moving to the next reel on its left. In order to wend its way out of the grid, a respin of the non-Wild reels transpire. The Wild shifts by one position on each Respin until it drops out via the leftmost border.
During those Respin travels, additional Jack-o-Lantern Wilds may appear and therefore prolong the free rolls. All the more beneficial for Halloween Jack slot players, as more substitute symbols will be present in the grid. The greater significance of every Jack-o-Lantern Wild is that, it triples win-credits if it participated in completing a winning payline combo.
In a round of Halloween Jack Free Games, 3 types of Extra Wilds may haunt the reels. The array includes Stacked Jack-o-Lantern Wilds, Expanding Death-Reaper Walking Wilds, and Stacked Hound Wilds. However, their emergence in reels depends on a collection feature dubbed as "Jack-o'-lector,"
Halloween Jack Free Games
A paid spin that yields a scattering of 3 or more Jewelry Box images is a game changer, as 10 Halloween Jack Free Games will transpire. Now if another set of 3 or more Jewelry Box icons are in view as bonus spin outcomes, the round extends with 5 extra free-spins.
Actually, the availability of the 3x-paying Walking Wilds with Respin Feature gives players extra opportunities for gaining additional free rolls. The free round will let Respins roll until all Walking Wilds have exited, before continuing with the bonus game proper.
Chances of raking in big bonus wins heighten if players complete the 3-level Jack-o'-lector collection feature. Completing each level enables them to exploit the Extra Wilds of the bonus game.
Jack-o'-lector Feature
This segment introduces a glowing Red Lantern as collectable icon, which appears only in Reel 5. Collecting 3 Red Lanterns during the bonus bout completes the Stacked Hell Hound Wild Collection. The next set of 3 fills the Stacked Jack-o-Lantern Meter. Amassing another 3 Red Lanterns will unleash the Expanding Death Reaper Wild.
Every time players complete a Collection Level, the Wilds that appear thereafter will take form according to the latest type of Wild unlocked by the Jack-o'-lector Feature.
Hell Hound Wild is a 2-tile image of a Hell Hound that simply provides 2 substitute icons to the outcome of a bonus spin. After completing the Level 1 Collection, Wilds appearing thereafter, transform into Stacked Hell Hound Wilds.
Stacked Jack-o-Lantern Walking Wilds – replaces the Hell Hound Wild if a total of 6 Red Lanterns have been stashed in the Jack-o'-lector Meter. Any Wild that emerges thereafter turns into 3-tile high Stacked Jack-o-Lantern Wilds.
Expanding Death Reaper Wild – This Wild Symbol unlocks after completing a 9-symbol Red Lantern collection. Wilds appearing at this stage, turn into Death Reaper Wilds fully covering a reel. In addition, they will stay on as Walking Wilds, shifting leftward by one position on every transpiring Respin. The free round temporarily discontinues in order to launch Respins that will bring the full-reel Death Reaper Wild, out of the grid.