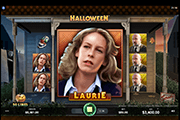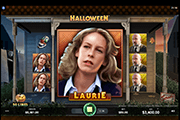 Halloween Online Slot: Get Halloween Treats from Bonus Wheel, No Tricks!
Halloween branded online slot by Mahi Gaming for the Microgaming platform furnishes unexpected thrills. Players will not freak out once slasher Michael Myers appears, as the image triggers a Bonus Wheel Game. Other characters of the original 1978 American horror film come around as high-paying icons. Jamie Lee Curtis, who plays the role of Laurie, is also a central figure; posing as highest paying icon. Although images of Dr. Loomis, of slasher victims Annie and Laura are medium-win icons, they can also bring Big Scary Wins!.
All four (4) Halloween characters may emerge in a 4×5 Jumbo Block, a configuration carried by the Wandering Reels. Any of those four (4) images may also land as outcome of a Trick or Treat Bonus Wheel spin; awarding a round of free games. Ominous as the Knife and Mask icon may seem, the image is a boon, as it represents the wild card that can represent all regular-paying symbols.


Halloween Online Slot: Wandering Reels
Although the elements and the 50 paylines of this game are presented in 3 rows and 5 columns, portions of the grid tend to change structure by way of the game's Wandering Reels. The latter is a framed block of 4 x 5 icons that contain an independent set of pay diagrams. As the huge block wanders or shifts position on every spin, the pay patterns likewise change.
Moreover, the Wandering Reels hold colossal images of Laurie, Dr. Loomis, Annie and Laura. Referred to as Jumbo Blocks in this Halloween game, the Wandering Reels could connect a huge image to smaller, single cell versions of the same character.
Since a Jumbo Block is equivalent to 12 identical images of a Halloween character, connecting to similar icons positioned in regular reels will likely result to multiple high-value payouts. Still, it is important for an alignment of one-a-of-kind symbols to start from the leftmost reel.
Halloween Online Slot: Trick or Treat Bonus Wheel
The most exciting Halloween slot treats can be collected via the Trick or Treat Bonus Wheel. It takes only three (3) Bonus Symbols in any reel to activate the feature. Players are entitled to spin the prize wheel at no cost, and reap cash rewards awarded by landing on Total Bet Multipliers, or via one of two Bonus Games.
Bonus Wheel spins are without limit but may end if the prize indicator lands on a Stopper Symbol, or activates either the Halloween Free-Spins or the Boogeyman Bonus Feature.
Bonus Wheel Multipliers are instant cash rewards determined by the Multiplier Value won and the Total Bet at the time of Bonus Wheel activation.
Halloween Free-Spins Bonus Round comprises nine (9) free games. This bonus game sets off if a wheel-spin lands on a Laurie, Dr. Loomis, Annie or Laura image. To boost players' chances of getting the most out of every bonus spin, the Wandering Reels will carry only Jumbo Blocks of the character that triggered the bonus round.
Boogeyman Bonus Payouts are cash prizes won by unraveling Mystery Prizes behind Leaf icons. Revealing all 10 cash rewards in store, garners an Extra Exit Prize of 20x the Total Bet. However if a Leaf uncovers a Red Stopper Symbol, Michael Myers appears to cut short the feature; but not without awarding half of the Total Bet as bonus reward.
Unraveling a Knife image is just as significant, as this can be set aside for future use during an ongoing Boogeyman Bonus Game. Should a chosen leaf bring out a Michael Myers image, the Knife icon can prevent that image from ending the bonus feature.