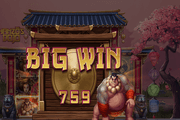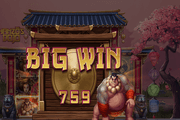 Hanzo's Dojo Online Slot : Go for Big Wins via 2 Separately Activated Free-Spins Features
Hanzo's Dojo presents Yggdrasil Gaming's creative concept of a Japanese-themed online slot. Four (4) types of fighters meet at Sensei Hanzo's Dojo, to land as top-paying one-a-kind-symbols that award top pays. Their performances as matching reel elements may get a boost, from a Golden Warlord Wild that can join a matched assembly as substitute or alternative icon.
The Golden Warlord Wild is so powerful, as it can expand into a full-reel Stack of Wilds, certain to cover an entire reel. This Wild Symbol may even represent Master Hanzo, and complete a 3-symbol combo that sets off 3 Hanzo Spins. However, the Expanding Warlord Wild and the Hanzo Free-Spins transpire only during base plays. After all, the regular Free-Spins Bonus Round, runs on a grid that displays only a Colossal 3×3 Symbol in the center reels.


This highly imaginative online slot has a single row of 3 horizontal reels called the Rooftop Slot. It is a special section atop the 25-payline grid that displays only Hanzo images, Expanding Warlord Wilds, Rooftop Free-Spins Symbols and X icons. The latter element is of course a non-paying icon, while the 3 others possess special features.
The four (4) Japanese fighters occurring as top paying symbols include a Sumo Wrestler, a Samurai, a Ninja and a Geisha with a War Fan. Of the 4, the Sumo Wrestler commands the highest range of payouts; drawing out 50, 100 or 235 win-credits whenever a set of 3, 4 or 5 aligns as winning payline contents.
Hanzo's Dojo Online Slot: Hanzo Free Spins
Pay close attention to the Hanzo and Warlord Wild Symbols emerging in the Rooftop Slot. When 3 Hanzo Symbols are simultaneously in view, 3 bet-free spins will roll the reels of the standard 3×5 grid.
To optimise each Hanzo Spin, the feature selects a random icon from the current images on display. During the brief bonus bout, the chosen element will then emerge as a huge 3×3 image in Reels 2, 3 and 4. The Colossal Symbol stays in the centre until all three (3) Hanzo Spins have been played.
A Rooftop Warlord Wild can act as a completing component of a Hanzo Free-Spins trigger-combo. If so, the Warlord Wild expands, fully covering the reel beneath its rooftop position. That way, prior to commencement of the Hanzo Free Spins, the Warlord Wild Expansion may enhance the current outcome of the regular grid. However, Wild Symbol expansions will not carry over during Hanzo Spins since the freerolls transpire in a special 3×5 grid
Hanzo's Dojo Free-Spins Feature
A scattering of 3 or more Free-Spins Tokens, including Rooftop Free-Spins icons, activates a round of free games. Each Free-Spins icon emerging as trigger element in the standard grid awards 3 bet-free turns. This denotes that 9, 12 or 15 Free-Spins will kick off, if a set of 3, 4 or 5 of the bonus symbol lands anywhere across the 3×5 grid.
Similar to the Hanjo Spins grid, the center reels will display a Colossal 3×3 Symbol. The difference though is that in the regular Free-Spins Round, any icon may emerge as a Giant Symbol in Reels 2, 3 and 4. That being the case, the centre reels will not lock in place, any 3×3 image that emerges after each bonus spin.
Rooftop Free-Spins Symbol
If Rooftop Free-Spins icons form part of, or compose a winning Scatter Combo, players can expect to receive more bonus spins. Every winning Rooftop Free-Spins token awards 4 free plays. In addition, a Rooftop Free-Spins token also awards one of 5 win-boosting features.
Rooftop Free-Spins Win Boosting Features:
* 2 Extra Free-Spins
* Win-Both-Ways on consecutive, one-of-a-kind alignments commencing either from the far left or far right reel.
* Colossal Symbol Nudges will move up or down any 3×3 icon that is only partially visible. That way a full display of the Colossal icon will be in view.
* A 2x Win-Multiplier that will double all payouts garnered from the free round.
* A full-reel Stacked Warlord Wild in Reel 5 that heightens chances of hitting 5-of-a-kind payline win.