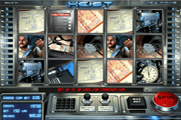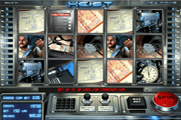 Heist Free Slots Game Review
Ever wanted to be a part of a team that plans and executes bank thefts and missions, this is their chance, through this 3D video slot by Betsoft, Heist, players will join a professional bank thief as he tried to achieve his big hit. Like any other Betsoft game, this game comes with a compelling story, this story will be told to players as soon as they open the game. The bank robber is a professional robber who has been doing this for seven years and he is being pursued by a police detective who is getting closer and closer to catching him. So get ready to enjoy an action packed ride that is like none other, that is offered in 3D animated visuals that will keep you on the edge of your seat all throughout the game play.

The symbols on this video slot are all themed around a bank theft and a bank robbery. They include the thief, the police detective who is trying to capture the thief, a bank vault, the blueprints of a map, a drill and a gun. Some of these 3D symbols will turn into animations as they participate in creating winning combos. These symbols will appear on the 5 reels of the game and the 30 lines that it boasts.
The bets that players will be able to place on each spin varies between 0.05 and 150 credits for each spin. These wagers can be placed at the bottom wagering area that players will find underneath the reels of the video slot machine. The wagering platform of the game comes in the form of complicated and sophisticated looking buttons that resemble the control panel of security systems in bank vaults.
Since this game has the power of Betsoft, players know that they will be able to enjoy a great list of rewarding bonuses and features. Players can find out all about these bonuses by viewing the paytable of the game. It will not only show the special features but the normal line payouts as well. The vault symbol is a bonus symbol that can trigger a very rewarding bonus feature. It will do that when three of these symbols appear on the game's reels. As for the drill, it is the scatter symbol that pays scattered rewards and of course, the more scatter icons that land on the reels, the higher the scattered rewards that players are going to claim.