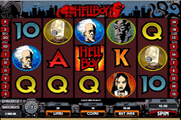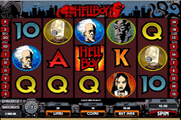 Hellboy Free Slots Review
Hellboy is one of Microgaming's Marvel slots, and tells the tragic comic story of the little horned and bright red devil boy who jumped up from hell and was then adopted by a Catholic priest. Hellboy is a slot with 5 reels and 20 paylines, and you can get to both Super Mode and the bonus game Underworld. The Hellboy logo acts as a wild symbol and will help you create winning symbol combinations.
The bonus game called Underworld consists of four levels and your mission is to locate the superheroes in a system of underground tunnels. Super Mode is triggered when you get three Hellboy fists on the screen. Super Mode helps you to find and save all the super heroes in your team and begin the hunt for 'Relic of Power.'

Every time you win something in the base game, you get the opportunity to double or quadruple your winnings by guessing the correct color (red / black) or card suit (hearts / spades / diamonds / clubs) on the card drawn. If you choose wrong, you lose your gain, so you have to consider whether to participate or not.
Hellboy is a cartoon character that was first shown at San Diego Comic-Con Comics # 2 (1993). The author named Mike Mignola has worked for Marvel, DC Comics and Dark Horse Comics. Hellboy is a demon who helps the U.S. government in the fight against their enemies, and he has fought against everything from Nazis to the Russian witch Baba Jaga. Two feature films are where Hellboy has the lead role, "Hellboy" which premiered in 2004 and "Hellboy: The Golden Army" which came out in 2008. In the movies Ron Perlman is the actor who plays the imaginative character of Hellboy. So if you are looking for a fun and an action packed experience where you get to join Hellboy, the spawn of hell, on a great ride, then we have just the slot for you, Hellboy.
Overall, the game has a visually satisfying experience that is packed with high quality graphics and symbols, which is something to be expected from a Microgaming slot. It also comes packed with a great set of line pays, as well as great bonus features and icons that can be quite rewarding. The best part about all of this, is that you can get to enjoy the game right here for free with endless demo credits, without having to make any deposits or place any real money bets.