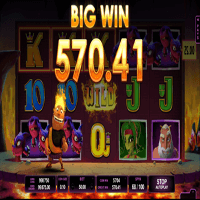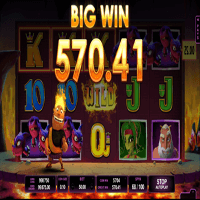 Hot as Hades : An Amusing 3D Video Slot Inspired by the Lord of the Underworld
Hot as Hades is a five-reel 3D video slot, with twenty permanently activated paylines. Using a theme that is supposedly taboo particularly to the Greeks, Microgaming gave a funny take on Hades, the Ruler of the Underworld and King of the Dead.
Delivered via the Quickfire gaming platform, this 3D-rendered video slot depicts Hades as a cool fellow who feels right at home in a hellish environment. Sporting a flaming punk hairstyle and a mischievous grin on his face, Hades keeps company during reel-spinning sessions. He pops in and out of the screen, performing inane antics to show how he whiles away his time in the Netherworld.

Hot as Hades has special game features that blaze with win-boosting attributes. The Hot as Hades, logo for one, is a Wild Symbol with a 2x win-value multiplier. If five of those Wilds land on a payline, the video slot pays a top prize of 5,000 coins. The Wilds are only the tip of the iceberg so to speak. This Microgaming 3D slot creation also features a randomly activated Free-Spins Game and a Scatter-activated five-level Bonus Game.
Take Five from the Hot as Hades Super Mode Free Spins Feature
This special game segment awards five bet-free spins. The round is in Super Mode, because any three of the five spins could produce a Locking Wild. The 2x value multiplier attribute of the Hot as Hades Wild, applies to all payline wins created by the Locking Wilds of the free game.
Take another Five from the Hot as Hades Bonus Game
Microgaming delivers the "Quest for Crystal Helm Bonus Game" as a delightfully amusing mini-cartoon animation. It has five game levels, represented by a series of five instant-win Pick-Me games. Players select any one of five objects in each level to unravel a random bonus prize, a Win All prompt or a Block symbol. Choosing an object that reveals a Block symbol, abruptly ends the Bonus Game.
Hades makes one of his rare travels out of his underworld domain to retrieve his Crystal Helmet. Also known as the Crystal Skull, the Crystal Helm(et) was a gift to him by the Cyclopes to make him invisible during the epic clash with the Titans. However, Hades has to pass five different portals that can be unlocked or become passable, if a player avoids the Block symbol of a Pick-Me game.
The prizes revealed in each game level vary, and gets trickier. Except for Game Levels 1 and 5, the objects could reveal two Block symbols and only one Win All. Game Level 5 though presents players with a chance to discard their first choice, as means of taking another shot at the Win All prompt. However, the second choice is final, as the first choice has been discarded, and likewise excluded from the Win All prizes.
This new Hot as Hades 3D video slot is definitely a must-play title for video slot lovers, as it rates high in terms of entertainment value and compensatory features. Hades for one pays as many as 2,500 coins for five symbols, while Cerberus, Medusa, Poseidon, and Zeus have payout equivalents of up to 2,000 coins. The Crystal Skull Symbol, which activates the Crystal Helm Bonus Game, awards Scatter Pays ranging from 50 coins up to 5,000 coins.