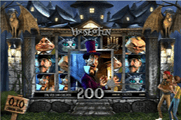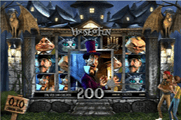 House of Fun Free Slots Game
The online free slots game developed by Betsoft entitled House of Fun is a thrilling, animated 3D slots game within the genre of horror. This game offers players a very exciting gambling experience as they go through an adventure in the house of fun so they can enjoy one heck of a scary and a spooky ride while getting the chance to claim their own share of the great fortunes and prizes that are found within the House of Fun.
Players need not worry as they will not go through this adventure alone as they will be accompanied by a couple of teenagers, a female, and a male and they are accompanied by their dog. These three characters are going to interact with players during the gameplay. This game can be enjoyed in practice mode on this website while it can be played with real money on Mr. Green Casino. The game features 30 lines and 5 reels.


The symbols that appear on the video slot's reels are all inspired by the adventurous theme of the game. These game icons are a painting of a mysterious old man, a box with a question mark, a spooky Cheshire cat looking beast, a candlestick, a dubious groundskeeper, Jack, and some other shady looking individuals. Some of these symbols can turn into animated symbols when they are on an activated payline that has a winning symbols' combination.
The game offers players a great set of rewarding features and special symbols that allows players to earn great rewards. For example, 3 mystery boxes anywhere on the reels will activate the free spins bonus round. This is a feature that players will soon be gladly anticipating that it hits.  As soon as the three boxes with question marks appear on the board at one time, a jack-in-the-box – are really creepy one at that – appears to award free spins.  The main bonus round appears less often but features the kids trying to find a way out of the haunted house of fun.  The player will be asked to click on doors.  If the kids are able to escape, then they have found the collect option and the bonus round will cease.  Players will also find that the click me game that appears when the master of the house lines up three times on the same line, hits quite frequently and can be very profitable.