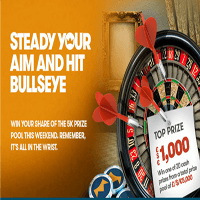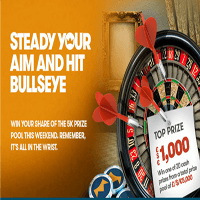 InterCasino BULLSEYE Promo Draw to Give Away 5K Prize Pool to 20 Lucky Winners!
InterCasino BULLSEYE Promo is offering online players a chance to win a share of 5,000 cash prizes up for grabs this coming weekend. InterCasino customers need only to earn specific numbers of Interpoints to qualify for the seven (7) Prize Draw Brackets.
The top InterCasino BULLSEYE Promo Prize of 1,000 will go to a single winner, Nineteen (19) other players will be drawn to receive a share of the remaining 4,000 prize pool.
Earn InterCasino BULLSEYE Promo InterPoints to Qualify
The number of Interpoints earned during the inclusive September 07 to 16, 2015 promo period determines a qualifier in each bracket. However,  a player qualified to win in any Prize Draw Brackets,  can win only one cash prize.
To become eligible as qualified entrant to the First Prize Category of 1,000, an InterCasino player must have earned as many as 5,000 points. Now if a qualified entrant to the 1,000 Top Prize did not win under this category, he or she can still have a chance to win under the other InterCasino BULLSEYE Promo prize-categories.
The second prize, qualifies players who garnered as many as 3,750 InterPoints. Under this Prize Bracket, two winners will receive 650 each. The third prize requires at least 2,500 InterPoints in order to qualify. Under this prize category, two more entitled players will receive 500.
The fourth prize will go to two winners who will receive 300 each. The fifth and sixth prize category will award 750 and 250 respectively and individually, to a set of three winners in each category. The seventh Prize Draw category will have seven winners receiving 50 individual prizes. Fourth, fifth, sixth and seventh Prize Draw Bracket qualifiers must earn 1,875, 750, 250, and 125 InterPoints, respectively.
Other InterCasino BULLSEYE Promo Conditions
This InterCasino BULLSEYE Promo Draw is available to players who have no remaining Welcome Bonus in their account.
To earn InterPoints, an InterCasino customer must have placed deposits of at least 100 during the September 07 to 16, 2015 promo period. The amount deposited will also work toward earning bonuses and loyalty points.
InterCasino will hold the draws within seventy-two hours after the September 16 end-date of the InterCasino BULLSEYE Promo raffle.
Daily bonuses received from the deposits placed during the promo period will be awarded in accordance with the bonus rules of the promo raffle. Withdrawal of deposit to satisfy the promo requirements, of the bonus amount and of any winnings collected from using the bonus, are all subject to InterCasino's wagering requirements as specified in the related bonus offer.