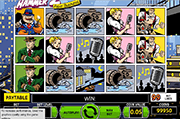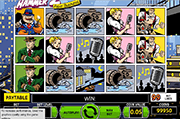 Jack Hammer 2 Slot Machine
Jack Hammer 2 is the local super hero and police officer who helps catch the bad guys and prevent them from taking control of the streets of the city. This game by Net Entertainment allows players to join Jack Hammer in his crazy and wild adventures so they can help put a stop to the criminal underworld while earning the great pays and rewards that the game has to offer to them.
[/CBC]
Format of the Slot Machine
Jack Hammer 2 slot has a format of 5 reels and hosts a total of 50 paylines that players will have the chance to place their wanted wagers on. These bets can be placed right under the reels as players choose how many of the 50 lines of the game they want to activate, the betting level and lastly, the coin value that players will use to place their bets.
The game comes with plenty of line pays as well as a set of rewarding symbols that have special features. For example, there is a wild bang symbol that can replace other icon as well as a bonus icon and a scatter symbol that can trigger free spins for the lucky players.
The game is done in a comic book style which gives it a unique look compared to other online slots. The graphics are crisp and bring the film noir storytelling to life. With the success of the first one and now with the success of Jack Hammer 2, a third might just be greenlit.
The game is rather flat in comparison to some of the 3D slot titles that Net Entertainment has released. Perhaps in the third addition, NetEnt will bring the characters and a gripping tale of intrigue into the third dimension of modern graphics. It would be great to see these characters animated.