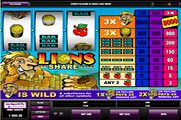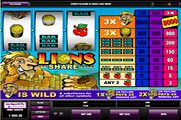 Jester Jackpot Free Slot
Jester is a friendly clown who wants nothing more than giving players the great rewards that they deserve. Players will get to claim the great payouts that Jester has to offer them by placing their bets and spinning the reels of this slot machine, Jester Jackpot. The game is a classical slot machine that has three reels and one single payline in the middle of these reels. Players will find these 3 reels on the left side of the screen of the game at the top. On these reels, players will see multiple spinning symbols that include Jester's clown hat, the usual black bar symbols, Jester's special bar symbols and cherries. Players would have to get 3 matching symbols on the payline of the game to become eligible to claim a payout.

The Pays of the Free Slot
The different payouts that can be claimed are shown in the paytable of the game which is found on the right side of the screen. It comes in the form of a table that has 4 columns. The first one contains the different symbols that the game has while the other three show the different payouts for each symbol according to the betting level that the players chose. This is because players can choose to place 1 coin, 2 coins or 3 coins.
The Cherry symbol can pay players if one or two of them land on the reels, players will earn 2, 4 and 6 coins for 1 cherry icon and 5, 10 and 15 coins for 2 cherry icons if they place one, two or three coins respectively. As for the highest paying symbol, it is none other than Jester's clown hat. It is the symbol that can trigger the jackpot payout of the game which is equal 2400, which happens when players get three of these symbols on the payline of the game after they have placed the biggest bet of 3 coins.
These bets can be placed right at the bottom of the screen as players will choose how many coins that they want to place on each spin as they click on the "Bet One" button. They would also choose the coin value that they want to use to place these stakes. There is also a Max Bet button that gives players the chance to place the biggest bet there is with ease.