Jewel Quest Casino Game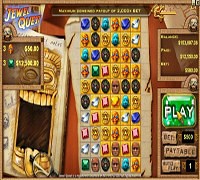 Another puzzle game has been reinvented to accommodate the slot game world. Joining the ranks of Bejeweled and Cubis is: Jewel Quest.
Jewel Quest, like the similar puzzles games-turned-slot games, is an almost-identical version of the same game. Like other puzzle games, Jewel Quest's main goal is to align three or more symbols (like the skulls, the gold or whatever symbol) and you can eliminate them. For this version, you don't move them around. You have to rely on spinning the to see if you can eliminate the symbols. Once you've eliminate the symbols, more of the symbols will drop giving you another chance to eliminate.

Though it plays differently, Jewel Quest still retains much of its unique gameplay elements to give you the experience. From the symbol elimination to the patterns, Jewel Quest still has some originality in it. You also have to remember that the rules of Jewel Quest have been applied so don't expect your usual rules to apply here.
Unlike other slot games, Jewel Quest doesn't have any bonuses. No wilds, no scatters. You have to rely on the symbols, which actually have different values. If players wish to know all about the different values of the symbols that appear across the grid of this game, they can do that at any time by opening the paytable of the game. They can open it by clicking on the Paytable button that is located on the right side. they will see all of the different symbols and the different payouts that they can give out.
There are other buttons that are found at the control panel of the game on the right side of the game's screen. These buttons include the bet placing button, starting the game and the helpful auto Play function. This makes it easy for players to play the game, as they set a wager and a number of coins, and watch the game as it spins on its own while racking up the great rewards that it has for them.
If you want to play a slot game that's different and challenging, try Jewel Quest. It's a mix of engaging puzzle elements and slot game elements. The game is not a traditional slot machine, as it has a unique format and a pretty rewarding setup. So whenever you decide to give this amazing game a few spins, you will certainly not regret it.