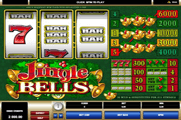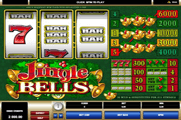 Jingle Bells Free Slots Review
It's not quite the holiday season yet, but we're already starting to see signs of the Christmas season in different retailers. We decided to jump on the bandwagon and put a little holiday spirit out there too. Of course, if you aren't one to start celebrating early, perhaps this is the perfect game to get you in the Holiday Spirit and to help you win a little extra spending money for your holiday shopping.
Jingle Bells is just a 3 reel slot, but it does have five pay lines, which is great, and even scatters and wild symbols! That's a great feature on a smaller reel slot, since you don't find them very often. It also makes it much easier and more likely that you'll win something, and more frequently too! Scatters are always my favorite symbol to land on. They give you another little glimmer of hope after being so close to having something on a winning payline, and can be the difference between a win or loss, or even a small win or a bigger one.

The graphics on this game are also a lot of fun. There's plenty of reds, golds, and greens, but it's not overly dramatic. They also choose the perfect hues so that it isn't too bright, and really looks like Christmas. The use of bells is very festive, and I really like how they substituted holly berries for the cherries. What you need to win is pretty standard: a variety of combination of BAR symbols, as well as any 2 holly berries or any 3 holly berries. Three 7's also lands you a tidy sum, but the big winners here are clearly landing on 3 bells in a row on any given payline. They start paying out at 1000 and go up to 6k!
To conclude, this is a Christmas themed slot machine that offers players a Christmas experience that is presented to them in a classic setup that hosts 3 reels and a total of 5 bet lines. So if you are in the lookout for a fun 3 reeled game that is all about Christmas that comes baring a lot of surprises and rewards ,then this is the game that you should be playing. It can be enjoyed right here, right now for free as we have the game with demo credits so you can take it for a test drive and see what it has for you.