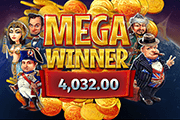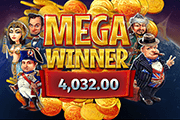 Leaders of the Free Spins World : 5 Exciting Game Modes w/ Exclusive Free-Spins Bonus Feature
Leaders of the Free Spins World online slot by Inspired Gaming, takes players on a fantasy travel through time, in the company of 5 famous (infamous) world leaders. Presented as hosts of every Game Levels, images of Cleopatra, Genghis Khan, Napoleon Bonaparte, Abraham Lincoln, and Winston Churchill will be on hand to activate their respective Free Spins World. Each Leader will bring on win-boosting elements that could produce Base and Bonus Wins in epic proportions.
However, the 25-payline playing arenas activate sequentially, and only if certain conditions are met. First, the bonus round of a preceding Game Level has been completed. At the start of an initial spin session, Cleopatra's Game World is the only active game level.
Secondly, the Bonus Wheel appearing right after the bonus round, will grant entry to the next Game Level. If a player fails to fulfill the second condition, the base and bonus spin sessions will carry on in the same Game World previously played. Not unless, more than one Game Level is already available. Under such circumstance, a player may select from any of the unlocked games presented as available options.


Regardless of the Game World in play, the host leader may award a random bonus feature during base game plays.
Leaders of the Free Spins World : Random Bonus Features
This online slot has five (5) random features to offer as guaranteed-win events. In any Game World, a paid spin may produce one of the following outcomes:
Cascade Win – Winning symbols of a current spin disappear to make way for new symbols cascading from above. The fresh set of reel images are certain to find a match and generate at least one additional payline win.
Bonus Nudge is a random reflex action of the reels that transpires if a Scatter combination can be completed. The Leader hosting the Game World serves as Scatter Symbol that sets off the related Free Spins World.
Big Win – comes with certainty as the reels will return with multiple displays of a single type of high paying icon in one or more paylines.
5-of-a-Kind-Win – Five identical images neatly lined up in any payline, are sure to emerge as outcomes of a spin.
Bonus Chance – In an outcome where two Leader icons are already in place, a Host World Leader gives players a second chance to complete a winning Scatter combo. The reels with Leader Icons lock in place while a respin launches.
Leaders of the Free Spins World Free Games
To activate a free round, Reels 1, 3, and/or 5 must return with a display of three or more of the active Leader's image. The number of spins vary, as it depends on the type of Free-Spins World hosted by the active Leader.
Every type of Free Games possesses distinct traits designed to increase chances of raking in Big Bonus Wins.
Cleopatra Bonus Round runs on reels in which only three icons appear as reel elements. The featured symbols are randomly selected prior to free-games launch.
Genghis Khan Bonus Round features a Golden Compass that enables a Sticky Wild to expand or replicate in an adjacent position.
Napoleon Bonaparte Bonus Round comes with full reel Stacked Wilds that lock in place for the next spin.
Abraham Lincoln Bonus Round randomly places a full reel Stack of Wilds at the center, to which related winnings increase via a 2x Wild-Multiplier.
Winston Churchill activates a Free-Spins World in which large Stacks of Wilds take position in one or more reels.
Note: A round of free games extends only if a player was able to collect Extra Free Spins from a previously played Bonus Wheel.
Leaders of the Free Spins World : Bonus Wheel Feature
The Bonus Wheel comes out only after completion of a Free-Spins World session. A spin of the wheel may bring on Tokens representing 1, 2, or 3 Extra Free-Spins. Another possible outcome of a Bonus Wheel spin is the unlocking of the next Game World Level. The latter takes place if the prize indicator lands on the image of the Next Level Leader.
Extra Free-Spins Tokens awarded by the Bonus Wheel pose as additional bonus turns in the next round of Free Games that a player will activate.