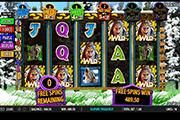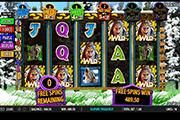 Legend of Bigfoot Online Slot: Bigfoot Sightings Bring Winning Advantages!
Legend of Bigfoot online slot by Barcrest/SG Interactive features the ape-like legend to create a great reel-spinning adventure. Set against a backdrop depicting North American wilderness, the quest for Big Bonuses will find fulfillment in the 6-Level Bonus Round. Sightings of Bigfoot are important. The hairy image of the ape known as Sasquatch in American folklore, is the wild card that represents any regular-paying icon.
During base game spins, Bigfoot Wilds may appear massively or take positions that will ensure a winning outcome. The hairy ape may even initialize loading of the Free-Spins Round. The last action will be most rewarding, because players will engage in free games that could cover all 6 Levels. Every Free-Spins Game Stage increases the number of guaranteed Bigfoot Wilds occurring as sure outcomes. The exciting part is that the free round can shift from level to level, for as long sightings of the ape's Big Footprints appear.


Legend of Bigfoot Online Slot: Base Game Random Wild Bonuses
During base game spins, a Bigfoot animation may randomly appear to make Wild Symbols more compelling and effective. The big hairy ape performs certain actions that will produce wins via the following:
Big Symbol Swap – This occurs right after a non-winning spin, to which Bigfoot takes direct action by swapping symbol positions to create a winning combination.
Random Wilds – As the legendary figure is believed to be a creature with extraordinary strength, Bigfoot shakes the reels to bring down several Wild Symbols that will land on random positions.
Wild Reels – Perhaps deciding that the best way to ensure a win is by creating Wild Reels, the Sasquatch will force Wilds to take positions in Reels 2 and 4.
Respin Reels – Bent on creating a winning outcome, Bigfoot may keep certain Wild Symbols locked in the leftmost section of the grid. The hairy image will then respin all 5 reels, hoping that the fresh set of symbols will create payline wins.
Respin Last Reel happens if two Bigfoot Logo Symbols are already in place in Reels 1 and 3. The Ape animation spins the 5th reel to give players another chance in activating the 6-Level Free-Spins Bonus Round.
Legend of Bigfoot Online Slot: Free Games
Free games may carry on in six (6) different levels. During each level, Wild Symbols are guaranteed to appear but will take random positions on each bonus spin.
The First Level sets off eight (8) Free-Spins when Reels 1, 3, and 5 simultaneously display Bigfoot Logo icons after a paid spin. In this stage, two (2) Bigfoot Wild images will appear with certainty. The number of Guaranteed Wild outcomes will increase to 3, 4, 5, 6 and 7 in Levels 2, 3, 4, 5, and 6, respectively. However, the number of free-spins awarded by each level correspondingly dwindles down to 7, 6, 5, 4, and 3.
In order to advance to the Second Level onward, at least three (3) Bigfoot Bonus Symbols must have appeared during a played Game Level. Every Bonus Symbol adds one (1) Big Footprint to the Tracker presented at the top of the slot screen. Completing a trail of 3 Footprints in each Level will bring players to the forthcoming stage.
Held Free-Spins Feature – In cases where three (3) Footprints have been tracked during an ongoing game level, the free round immediately advances to the next stage. Any remaining free-spins attributed to the present game level will be held for future play.
It is possible to proceed to higher game levels, while maintaining a number of Held Free-Spins in lower stages. In the event a Legend of Bigfoot player fails to track three (3) Footprints in a current game stage, the game allows players to go back and play the Held Free-Spins.
The great news is that if two (2) Footprints are already in place, this bonus game adds one Footprint to complete the requirement. The event therefore, activates the Free-Spins awarded by the next stage. However, the special Footprint addition, occurs only if there are Held Free-Spins. Otherwise, the game ends immediately once all free-spins, including Held Free-Spins have been played.