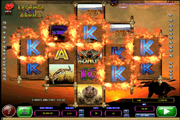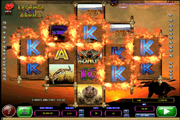 Legends of Africa Online Slot – Breathtaking Slot Adventure via the Any Way Blast Feature
Legends of Africa online slot brings a unique gaming experience via the Any Way Blast pay feature. This special attribute pays on all consecutively appearing identical symbols. The feature considers all matched-symbol combinations regardless of position and without considering any payline pattern.

Legends of Africa Online Slot – Any Way Blast Pay Feature
Take notice of the unconventional formation of the slot reels. Microgaming configured the set of reels with only two (2) stacks of symbols in Reels 1 and 5. Reels 2 and 4 have three (3) stacks of symbols, and only Reel 3 has a complete set of five (5) stacked images. If after a spin, the first and the fifth reels return with the same set of stacked symbols, the Any Way Blast Pay feature is activated.
Any combinations whether, three-, four-or five-of-a-kind groupings formed by those identical symbols, and in combination with like-symbols appearing in Reels 2, 3, and 4, will earn equivalent coin rewards. The matched combinations need not follow the game's payline patterns for as long as the groupings start from the left, and are positioned in adjacent reels. All Any Way Blast wins will be multiplied by the amount staked per line.
If the identical stacked symbols in Reels 1 and 5 did not complete any matched symbol groupings with the icons in Reels 2, 3, 4, the activated Any Way Blast feature will still award a bonus pay. Legends of Africa online slot is configured to award as minimum pay, 5x the amount staked per line. Based on Microgaming's game info, it is possible for Legends of Africa slot players to win as much as 144x the natural pay possible, for the set of full-reel stacked symbols.
After all Any Way Blast wins have been paid, the feature is temporarily deactivated. The general rules of the game will then apply on all subsequent spins. This denotes that matched symbol combinations must appear in any of the game's 30 paylines. Also, only the highest symbol combination per payline will earn coin rewards.
The Any Way Blast is also featured in the Free-Spins Bonus Game, where the possibilities of hitting great payouts are enhanced by Bonus Game pay-boosting elements.
Legends of Africa Online Slot Free-Spins Bonus Game
The bonus game is activated whenever three (3) Mask Bonus icons emerge simultaneously in Reels 2, 3 and 4 after a spin. Prior to the launching of the free round, bonus game players will select from one of three (3) Mask Symbols. The Mask icon selected will reveal the number of free-spins that will be awarded as bonus reward. Each set of bonus spins has a pay-boosting feature designed to optimise every bonus player's free play, as follows:
• A set of 10 free spins comes with a a 3x win Multiplier
• A set of 12 free spins with Reel 1 outcomes containing identical stacked symbols after each spin.
• A set of 15 free spins with Extra Wild Symbols
Legends of Africa Online Slot Wild Symbol
An image of a serene tropical grassland night scene showing an African Hut represents the Wild Symbol of the game. The image appears only in Reels 2, 3 and/or 4, available to use as substitute for regular reel icons to complete matched symbol combination/s in any payline.
Legends of Africa Online Slot Mystery Position Feature
In addition to the African Hut Wild Symbol, the reels of this Microgaming online slot have a Mystery Position. This special reel-attribute randomly replaces a game symbol before the reels come to a stop.