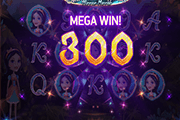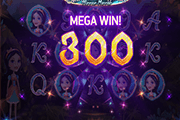 Mirror, Mirror Online Slot: Guaranteed Wins via Respin, Reel Modifiers and Bonus Features!
Mirror, Mirror online slot is the third addition to NetEnt's Fairy Tale Legends Collection. Presented with a theme inspired by Snow White and her Evil Stepmother, it comes with 243 win-ways, 3 random Reel Modifiers and 3 Treasure Chest Bonuses. Players can also benefit from the mystical Mirror belonging to the Evil Queen. A Mirror in place after a base or bonus spin, sets off a Respin Feature that runs with sticky images of either the Queen or the Princess.
Although not configured with a Wild Symbol, Reel Modifiers such as Fairy Magic Spin, Fairy Surprise and Fairy Mirror Feature, pose as fair alternatives. Modifications improve outcomes either to create greater wins, or to give a second wind on a non-winning spin. The third and the most significant, is the modifier that adds a Mirror to an appropriate reel, as it instantly sets off the Mirror Respin Feature.


Mirror, Mirror Online Slot: Mirror Respin
A respin triggers whenever a Mirror icon lands on Reel 3. During Free Rounds, a Mirror may also land on Reels 1 and 2.
Once the mystical object is in place, it subsequently reflects either a Princess or Queen image. If the current contents of the grid include icons of the Mirrored Image, all such elements lock in place as guaranteed outcomes of the forthcoming Respin. Winnings gained as results of the Mirror Respin, will therefore increase payouts of the spin that triggered the feature.
Now if the Respin produces more of the Mirrored image, another respin rolls out. Additional images of either the Princess or the Queen will likewise lock in place. Actually, respins continue for as long as each free roll produces at least one (1) new Mirrored Image of the featured character.
Mirror, Mirror Online Slot: Random Reel Modifiers
At some point during spin sessions, a Fairy appears to randomly change a spin outcome via any of the following:
Fairy Magic Spin, which heightens chances of hitting multiple winning combos. The Fairy adds a cluster of 5 up to to 7 units of one-of-a-kind images. The Fairy randomly chooses one, from any of the medium-win symbols such as the FL Game Logo, the Princess, the Queen, an Emerald, or a Mine Lantern; whilst placing alike elements in adjacent reel positions.
Fairy Surprise applies adjustments on a non-winning spin. Here, the Fairy arbitrarily selects an icon from any medium-win symbols currently displayed as outcome. The chosen symbol will then replace all low-win icons in view. Symbol replacements start with the least-paying element, until such actions complete a winning arrangement.
Fairy Mirror Feature – The Fairy may decide to place a Mirror in Reel 3, in order to activate the Mirror Respin feature. Once in place the Mirror Respin feature carries on in the same manner as described above.
Mirror, Mirror Online Slot: Treasurer Chest Bonuses
Treasure Chest icons are exclusive to Reels 1, 3 and 5 of the base game grid. A paid spin that places at least one Treasure Chest in all three designated reels, initialises the awarding of a Bonus Feature.
Each Treasure Chest holds a secret Bonus that a participating player can play, or claim by choosing and clicking a Chest icon. The latter may then reveal any of the following:
Mining Bonus Game is a Pick Bonus segment in which players join mining dwarves in collecting gemstones. Clicking any Gemstone in view will award cash prizes in values ranging between 50x and 500x the current Bet.
Gemstones chosen up to the 3rd Pick are sure to deliver cash bonuses. After the 3rd Pick, the Pickaxe used in dislodging Gemstones could break. Any time that it does, this Pick Bonus Game ends.
Free-Spins – A round of ten (10) Free-Spins will play on a grid, in which Mirror icons may emerge in Reels 1, 2 and 3. That way, players have increased chances of gaining additional bonus wins via the Mirror Respin feature.
Coin Win – This Bonus Feature simply awards instant coin wins that carries a value equal to 15x the current Total Bet.