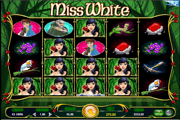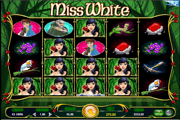 Miss White Online Slot with 1024 Ways to Win and End2End Expanding Symbols
Miss White online slot may be regarded as IGT's sequel to the Miss Red title. The latter, originally a slot machine content gained popularity among avid land-based casino players because of its awesome 1,024 MultiWayXtra ways-to-win opportunities and the End2End Expanding Symbol feature. IGT distinguishes the Miss White online slot from Miss Red by using the Snow White fairy tale as theme for the game's graphic presentation.
About Miss White's MultiWayXtra
The MultiWayXtra feature of this IGT online casino offering is extraordinary. Unlike other MultiWayXtra-pay schemes, the Miss White online slot recognises as wins not only matched symbol combinations originating from the leftmost and the rightmost reels, but also those landing on the three centremost reels (Reels 2, 3, and 4). The win possibilities therefore are seemingly endless, to which there are 1,024 ways to win in all.
[/CBC]
Another excellent feature is the Expanding Symbol to which there are two; that of Miss White herself and of a Dwarf who looks like Doc, but wearing a loupe (a gem magnifying glass) instead of spectacles.
About Miss White Online Slot's End2End Expanding Symbols
The Miss White and the Dwarf icons tend to expand, if one or more regular symbols in a row appear in between two Miss White or two Dwarf Symbols. The icons of the Prince, the Hag, a Pickaxe, a Posy, and an assortment of forest creatures, therefore, could easily turn into Miss White or Dwarf Symbols if any of those non-Expanding Symbols are caught in between any two expanding Miss White or two Dwarf symbols, from end to end and in the same row.
The Miss White Expanding Symbol pays 8, 15, or 50 coins correspondingly for every 3, 4, or 5 like symbol matches. The Dwarf Expanding Symbol pays 5, 12, or 40 coins for every 3, 4, or 5 of-a-kind Dwarf matches.
Yet if any of those Non-Expanding Symbols have like-symbol matches in adjacent rows, or formed winning combinations as their original appearance, the game also awards the corresponding payout for the related combination of that particular Non-Expanding Symbol.
The Miss White Online Slot Wild Symbol
The icon in which Miss White and the Dwarf images appear together serves as the Wild Symbol of the game. The White-Dwarf icon appears only if a Dwarf image appears in between two expanding Miss White Symbols in a row. The Dwarf Symbol transforms into a White-Dwarf Wild Symbol icon, and becomes usable as replacement for other regular icons toward the completion of matched combinations positioned in the adjacent rows.
The same configuration and subsequent transformation is true, in the event that a Miss White icon lies in between two Dwarf icons.
The Miss White Magic Mirror Free Spins Bonus Game
A trio of the Miss White with Castle Logo appearing in Reels 2, 3, and 4 launches the Magic Mirror Free-Spins Bonus Game. Players will choose from any of five (5) apples offered by the Wicked Queen, as each apple will indicate a specific number of bonus spin rewards. The number of free Spins can be anywhere between 5 to 15 free games, but only as initial set of free-spins rewards.
The Miss White with Castle Logo will still appear during the free round. If another set of three (3) emerges in Reels, 2, 3, and 4, then a fresh set of apples in the Picker Game will be presented to determine the fresh set of bonus spins that will be added to the remaining number of free spins.