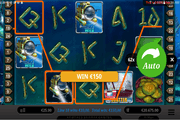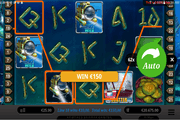 Mission Atlantis Online Slot: Join Expeditions Exploring the Fabled Lost City and Collect Rewards on Valuable Discoveries
Mission Atlantis online slot is a 25-payline depiction of a fictional expedition that succeeded in locating the fabled lost city of Atlantis. Lush with gold, and other precious metals, Plato's narratives described how such abundance led to the city's destruction. The moral degradation of Atlanteans was said to have angered the gods. As punishment, they sent fire and earthquakes to destroy  and submerge the city into the depths of the sea.
Thru this online slot, game developers at Oryx Gaming tell their own story. Somehow and somewhere, years of scientific research finally paid off. Here, an exploration vessel called Mission Atlantis Research Vessel or MARV, takes online casino players on an Atlantis expedition. Actually, the MARV icon is a WILD Symbol that appears rather actively in any reel.
The next best thing about the MARV, is that it can represent the Radar Scanner Bonus icon, The latter is a special segment that rewards players with an instant cash prize after choosing an Atlantean artifact. MARV Wilds though cannot substitute for the Eureka Vessel, the trigger symbol for the Free-Spins Bonus Round.


Images of The Lost City land as highest paying regular icon. A pair or a set of 3, 4, or 5 Lost City symbols, rewards players with 5, 50, 200 or 1000 credits.
Mission Atlantis Online Slot: Wild Symbol
The MARV Wild is a special icon, as it can represent regular paying elements and the Radar Scanner Bonus Symbol as well. At the same time, 2, 3, 4 or 5 MARV Wilds lining up as components of a payline win, delivers 15, 250, 2000 or 7500 credits as payout.
Now if a Radar Scanner Bonus Symbol forms part of a winning Wild combo, both the corresponding Wild payout, and access to the Discovery Bonus Feature will be awarded.
Mission Atlantis Discovery Bonus Feature
Pay attention to Radar Scanner icons, because this special symbol sets off the Discovery Bonus Feature. However, it is not a Scatter Symbol since 3 or more of this icon must occur in adjacent reels, starting from the far left position of any payline.
Once the feature activates, the Discovery Bonus Panel will then come into view; displaying 4 Artifacts as pick choices. Participating players will select and click on one in order to reveal a cash value. A player satisfied with the outcome, can simply click on the Collect button to receive the cash prize. If not, he or she may then click on the Repick button and choose another artifact. The cash value revealed by the second choice will be his or her Discovery Bonus reward.
Not unless this feature was activated by more than 3 Radar Scanner Bonus Symbols. That is because 4 or 5 Radar Scanners involved in activating the Discovery Bonus Panel, reward players with 3 or 5 chances for scoring a higher bonus prize.
Awesome even is that this bonus feature can still be accessed during free rounds.
Mission Atlantis Free-Spins Bonus Round
Images of a trawler called Eureka take part in this game as Scatter Symbols that award Free-Spins and Scatter Pays. Three or more in view anywhere across the sea-blue grid, will set off ten (10) Free-Spins. In addition, a scattering of 2, 3, 4 or 5 Eureka icons draws out a corresponding Scatter Pay; 2x, 5x, 50x or 300x the current Total Bet.
Playing a round of Mission Atlantis Free Games is definitely a rewarding experience. After all, this bonus feature triples all rewards gained from winning payline arrangements. The 3X Multiplier though, will not apply to Bonus Rewards collected from the Discovery Bonus Feature while in the free mode,