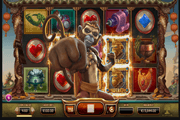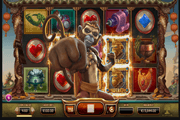 Monkey King – Online Slot Loaded with Special Wild Features in Both Base and Bonus Games
Monkey King is an Yggdrasil 5-reel online slot with no fixed payline configurations. It simply pays on matched groupings of three or more identical symbols occurring in adjacent reels, and originating from either the first or last reel.
To make it even easier for slot players to land on multiple and/or higher-paying combinations, a Sticky Wild as well as a Countdown Wild may appear at random with every spin. Those special Wild features may also occur through the courtesy of the Monkey King, whose animated figure appears outside the screen to transform an existing regular image into a Sticky Wild, a Countdown Wild, or a Treasure Chest.


Monkey King Online Slot Wild Symbols
The image of the Monkey King comes around as the Wild Symbol of the game. Yet its occurrences as a wild card have varying win-boosting attributes. As base game Wild, it may come around as a Sticky Symbol and/or as a Countdown Wild.
The Sticky Wild appears arbitrarily after any spin but only in Reels 2 and/or 4. It sticks to its position, and lingers in the same spot until after the next spin, or even after a series of succeeding spins. The Wild will stay glued to its reel for as long as winning combinations happen in every outcome.
The Countdown Wild Symbol may also occur after any spin, possibly simultaneously with the Sticky Wild element. The same Monkey King image is used as symbol but this time it has a countdown feature because it will stay around for three successive spins only.
In the event that a free-spin Countdown Wild outlasts a round of free games, the Wild will be carried over to the base game reels, until its countdown period lapses.
In the Free Games, the sticky characteristic of the Monkey King Wild will continue as special features of a Free-Spins Mode. Incremental Wilds, Stacked Wilds, or a Starting Wild will independently enhance the Bonus Reels, as their emergence depends on the Free-Spins Mode selected by slot players.
Incremental Wilds are the EXTRA Sticky Wilds that emerge in Reels 2 and/or 4. The Monkey King Feature appears automatically in this bonus game mode. It will transform symbols into Sticky Wilds that stay glued to their position until the end of the round; or even until all reel positions are filled with Monkey King Wilds.
Stacked Wilds In addition to the Sticky and Countdown Wilds that may appear after a bonus spin, a 3-tile high Monkey King Stacked Wilds may emerge in Reel 3. The Stacked Wilds though are not sticky, but may appear frequently during an ongoing bonus round.
Starting Wild is added to the centremost position of the reels at the very onset of the free-spins round. It is only the Starting Wild Symbol, as additional Sticky Wilds may subsequently appear in Reels 2 and 4, possibly via the Monkey King Feature.
Monkey King Free-Spins Game
There are two ways by which the free games can be activated. One is via the Free-Spins icon, when three or more appear after a single spin. The other method is via the Treasure Chest icon, which appears at random only in the 5th reel.
The Treasure Chest may also appear via the Monkey King symbol transformation feature. Although it usually awards coin prizes, ranging from 40 up to 1000, it may also activate the Free-Spins Game. If the Treasure Chest emerges during a free round, it will award 2 Extra Free Spins or coin rewards.
Once the Free-Spins Round launches, Monkey King Bonus Game players will be asked to select one of the following Free-Spins Modes:
• Six (6) Free-Spins played on reels enhanced with Incremental Wild Symbols
• Eight (8) Free-Spins played on reels enhanced with Stacked Wilds
• Ten (10) Free-Spins played on reels enhanced with a Starting Wild.