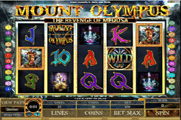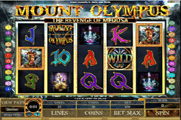 Greek mythology has always been a fun and interesting subject to learn, and it seems that there's always something new to learn that you didn't know before. Well here's one of those things; did you know that the home of these legends is also a video slot by Microgaming?
Medusa is one of the goddesses whose presence you will most recognize, as the snakes coming out of her head make her stand out a bit more than others. There are also such things as potion bottles, golden swords and the logos for the game. This slot has 5 reels that use bold colors set against a black background. The 3-D effects on the lettering really make them stand out, and the color effects is very easy to look at, even for a long period of time. All of these symbols that are inspired by the Greek Mythology come in great visuals that would help players in enjoying a one of a kind gaming experience that is engaging and immersive. these symbols are also animated as they turn into animations whenever players manage to create a winning combo or trigger a bonus round. The game is also accompanied by outstanding sound effects that help in adding to the authenticity of the video slot machine.
The maximum jackpot that you can win by playing Mount Olympus is 10k, which is a pretty good deal. There are plenty of wild symbols and scatter symbols will make it easier to land on the jackpot, or at least to win some kind of money in quite a few rounds. Despite the fact that this game has 25 paylines, wilds, scatters and multipliers, it is lacking in the bonus game department. There are free spins to be won though, and this can make a huge difference, especially when you are trying to stick to a relatively strict gambling budget. Sometimes this can be very hard to do, especially when you're having so much fun playing a game like Mount Olympus!
So if you were always fascinated by the Greek mythology and the mythical creatures and stories of its gods and titans, then this video slot machine by Microgaming is the game that you are looking for. It invites you to enjoy a great adventure into the Greek mythology so they can enjoy an action packed ride while claiming plenty of rewards, bonuses and prizes and earn their share of the Greek fortunes.