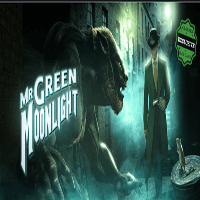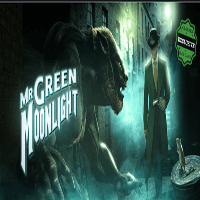 Mr. Green : Moonlight – A New and Exclusive NetEnt Title Revealing the Other Side of Mr. Green
Mr. Green : Moonlight, is a new NetEnt title released exclusively for Mr. Green Casino. A five-reel online video slot, Mr. Green : Moonlight has a compelling story to tell about the marvelous but mysterious Mr. Green. The new game reveals Mr. Green's dark and brooding side. He is a gentleman alright, but with a solemn vow to avenge his wife, who was brutally murdered by a werewolf.
The setting is in year 1865, an era when lycanthropy (the act of man transforming into a wolf) had brought grief and terror in Switzerland and other parts of Europe. The 20-payline slot depicts the story of how Mr. Green, scoured the streets as a werewolf hunter at night, especially when the moon is full.
Mr. Green : Moonlight slot players will join him in the werewolf hunt, promising them with reels filled with rewards as he sets out to seek his revenge. They must watch closely whenever the Moonlight symbol emerges as spin outcome, as this is the icon representing the Wild Symbol. The Moonlight Wild takes position in reel 2, reel 3 or reel 4 and magically turns two or more adjacent symbols into additional Wilds. Such an occurrence will increase a player's potential of hitting big wins, since a Wild symbol can take the place of regular icons.
NetEnt made the exclusive Mr. Green : Moonlight slot even more gripping once a player succeeds in activating the Free Spins Round. Here, the Moonlight Wilds turn into Blood Moon Wilds; guaranteed to appear with every bet-free spin played during the bonus game. Like the base game Moonlight Wilds, the Blood Moon transforms two or more symbols next to it, into extra Blood Moon Wilds.
In the free-spins round, Mr. Green : Moonlight players will experience tense anticipation not of the possible encounter with the terrifying werewolf; but of the multiple payline wins that the Blood Moon Wilds will create through icon-substitution.
Even while on a hunt for the werewolf, Mr. Green remains generous to slot players. The Mr. Green : Moonlight Free-Spins Round, awards multipliers in combination with the guaranteed Blood Moon Wilds. A Win Multiplier symbol appears in Reel 5, triggering multipliers starting with 2x.
Every win achieved via a free-spin, triggers the appearance of the next multiplier: 3x, 4x, and up to 5x. As each multiplier icon emerges on Reel 5, the slot screen slowly becomes illuminated. Each Multiplier icon appearance lights up different portions of the screen. Upon reaching the 5x multiplier mode, the entire Mr. Green : Moonlight reel screen will have lighted up — perhaps, to expose the man that turns into a werewolf.
A NetEnt slot exclusive must be working wonders for Mr. Green Casino, as Mr. Green : Moonlight is the second exclusive online slot created by NetEnt especially for Mr. Green. The first is the Marvelous Mr. Green, which NetEnt launched in July 2014.