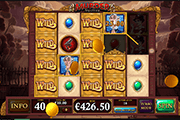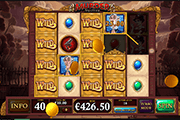 Murder Mystery Online Slot: Solve a Crime to Reap Rewards from Awesome Base and Bonus Game Features
Murder Mystery online slot by Playtech lets players in on a crime-solving mission revolving around 40 paylines. Follow clues through Mystery (?) Symbols that appear during Murder Spins. The Mystery Symbols reveal high paying Murder Weapons and Murder Suspects; delivering  guaranteed wins at no extra cost.
Spin on until the Inspector unlocks the Bonus Game Selection Panel. Bonus Rewards may come from a free round, enriched with Wilds or Mystery Symbols; or with a 3x Multiplier. They may also come from a Pick Game, which awards an instant cash prize on every Murder Weapon revealed.
The Inspector has three (3) suspects in mind: a Lady in Red, a Grand Dame and an elderly Man. The elegant Lady in Red has the highest Paytable Values; awarding 30, 150, or 500 coins, should 3, 4 or 5of her image complete a payline win.
Yet the largest payouts awarded by this game, can come from the wild emblem.


Murder Mystery Online Slot: Wild Symbol
Wild emblems take positions in any reel. At times, they may come around as Stacked Wilds in one or more reels. Wilds occurring in the same payline where identical images are aligned, increase chances of hitting a payline win.
Now if a group of 3, 4 or 5 Wild icons converge as winning contents of a payline, the longest combo formed, correspondingly garners 50, 200 or 750 coin credits as reward.
Murder Mystery Online Slot: Murder Spins Feature
This bonus segment transpires via two (2) consecutive free-spins enriched with Mystery (?) Symbols. The first to run is the Weapon Spin, followed by the Murderer Spin.
Weapon Spin – Up to 12 Mystery Symbols will land on random positions in Reels 1, 2 and/or 3. The Question Mark icons will subsequently reveal a single type of Murder Weapon, posing as surefire outcomes of the related spin. Once the reels are in place, matching Murder Weapon icons may combine with those revealed by the Mystery tokens; likely creating multiple and possibly, longer winning combinations.
Murderer Spin – Similar to the Weapon Spin, up to 12 Mystery Symbols will populate Reels 1, 2 and 3. This time though, the Question Marks reveal one-of-a-kind images of a Murder Suspect. Again, the reels may return with icons matching the revealed Murderer; likewise heightening chances of hitting multiple and/or longer winning arrangements.
After completion of the Weapon and the Murderer Spins, the aggregate bonus wins garnered will be awarded.
Murder Mystery Free Games
Await the arrival of the Inspector by way of three (3) or more Bonus Symbols scattered across the play area. The number of Inspector images unlocking the Bonus Game Panel is important, as it determines the range of free-spins awarded in a related bonus bout.
Participating Murder Mystery solvers reap their rewards by choosing to play one of the following free games:
Wild Spins – This feature awards 12, 16 or 25 bonus spins if 3, 4 or 5 Inspector Icons correspondingly unlocked the Bonus Game Selection Panel. On every bonus spin, Reels 1, 2 and/or 3 will receive two (2) Wild Overlays as win-boosting elements.
Reveal Spins numbering 6, 8 or 12 set off, if 3, 4 or 5 Inspector Icons unlocked the selection panel. On every free spin, up to 12 Mystery Symbols take positions in Reels 1, 2 and/or 3. The Question Marks will later reveal a single type of high-paying icon.
Multi Spins come via a set of 3, 12 or 16 free games configured with a 3x Multiplier. Two, three, or four Inspector icons  scattered anywhere, will extend the bonus round accordingly. Actually, this is the only free games feature that can reactivate. Moreover, the base game Murder Spin Feature may transpire and bring additional bonus rewards.
Clue Hunt is the Pick Bonus Game in which players need only to reveal the secret Weapons held by an array of Mystery Symbols. Each Weapon awards a corresponding cash prize, which Murder Mystery bonus players stand to receive as instant bonuses. However, if a Mystery Symbol unravels Smoke instead of a Weapon, the bonus game ends immediately.