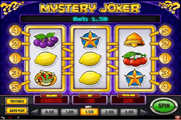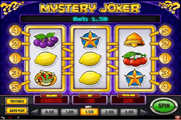 For anyone looking for a smaller video slot game, the Mystery Joker Video Slots is a great way to go about doing it. Of course, it is a good idea to know some more about the game before you partake in it. It is a game that is available in Canada, the United Kingdom, most of Europe and Australia, so if you live you these regions of the world you should have no problem playing it.
However, beyond this there is much more to the Mystery Joker Video Slots game than just where you can play it.

For starters, the game is a three reel, five play line slot machine. It does have scatter symbols for you to increase your chances of winning. The smaller symbol for Mystery Joker Video Slots is the joker. If three jokers appear anywhere on the three reels, you are going to win the free spins round. When you do win free spins, you are awarded 10 free spins.
The Mystery Joker icon is enabled during the times you are playing with the free spins. This means you are going to win anywhere from one to 100 coins in prizes if two jokers appear during the 10 free spins. A coin is the value of a bet you placed upon entering the free spin rounds.
In terms of value for your bet, you can start out with a minimum of 50 cents per bet per play line although you can take the maximum bet all the way up to 100 per spin. Due to this, if you bet 100 per play line and you enter the free spins round, you can receive a total winning amount of 100 x1 100, should both jokers appear. This gives you the possibility of cashing in 10,000 should you receive the largest payout amount for the free spins.
It all comes down to what someone is looking for and what sort of play lines are played.