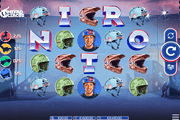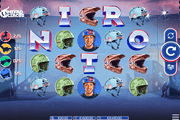 Nitro Circus Online Slot: Collect Awesome Bonuses via Nitro Bomb Blast, Nitro Jump, and/or Nitro Free Spins Features
Nitro Circus is an awesome 25-payline online slot from Yggdrasill built with 3 remarkable bonus features. The look and features of this game apparently took Inspiration from Travis Pastrana's Nitro Circus xtreme action-sports mini series. One of the nice things about the 3 bonus features is that completing, or setting off one, may activate another special event.
The Nitro Bomb Blast for example, awards either a Collectable Vehicle token, or a round of Nitro Free Spins. If a player completes a collection of Collectable Vehicle, the Nitro Jump Bonus Game activates.
Still, the Nitro Free Spins and Nitro Jump Bonus Games may set-off independently. When advancing too any of those 2 Special Games, a 2x or higher Multiplier, increases the total coin wins collected as bonus rewards.


Nitro Circus Online Slot: Feature-Triggering Symbols
Nitro Bomb icons, and the letters N, I, T, R and O are special symbols to anticipate.
Nitro Bomb
This explosive icon unlocks either the Nitro Bomb Blast or the Nitro Free Spins Bonus Round
I. Nitro Bomb Blast – It takes only 2 Nitro Bombs in place to activate this feature. First off, it releases 5 Bombs aimed to award any the following prizes on a random basis:
* 10, 20 or 30 Free-Spins awarded at random;
* One of 4 Collectable Vehicles: Reclining Sofa Chair, Rocking Horse, Mini Car or Bathtub
Once a prize has been revealed, all Nitro Bombs in the grid will explode before the outcome of a related spin is awarded. Mainly because the explosion will  turn all icons positioned within the blast radius, into Wild Symbols.
Ii. Nitro Free Spins – Three, four or five Nitro Bombs correspondingly activate 10, 20 or 30 Free-Spins. If the game advances to a free round, a single Nitro Bomb occurring after a free-spin is enough to detonate the Nitro Bomb. Aside from a fresh set of free games and array of Collectable Vehicles, a Bonus Round Nitro Bomb may also award a +1 Multiplier increment, or 1 up to 3 Extra Free-Spins.
A 2x Multiplier will increase all bonus winnings collected during a free round. if a Free-Spin Nitro Blast awarded a + 1 Multiplier, the factor increases accordingly.
N, I, T, R, O
A single spin in any game mode that delivers all those letters to form the word NITRO, activates the Nitro Jump Bonus Game.
Nitro Jump Bonus Game – In this bonus event, players choose from one of 3 standard Stunt Vehicles: an FMX Motorcycle, a BMX Bike or a Scooter. The stunt vehicle chosen will then perform dangerous stunts.
Initially, the game runs 3 Warm Up Jumps that allow players to collect coin-wins. During the warm-up stage, players may also win a Collectable Vehicle, a Speed Booster, or a Win-Multiplier. This segment culminates with a Final Nitro Jump to which players may use any available Speed Booster. Doing so may heighten chances of landing a higher Win-Multiplier that will increase the value of all coins collected. .
Another way of setting-off a Nitro Jump event is to complete a collection of a Collectable Vehicle.
Nitro Circus Online Slot: Stunt Vehicle Collection Feature
Four (4) unique Stunt Vehicles may compete in a Nitro Jump Game; but only if a player completes a collection of a particular vehicle. The array of Collectable Vehicles includes a Reclining Sofa Chair, a Rocking Horse, a Mini Car and a Bathtub.
Every Nitro Circus online slot activated awards one Collectable Rocking Horse as Welcome Bonus. Thereafter, Collectable Vehicle tokens may be won as a prize of a Nitro Bomb Blast or a Nitro Jump bonus engagement.
Any complete set of a Collectable Stunt Vehicle activates the Nitro Jump Bonus Game. The game mechanics still follows the regular Nitro Jump event. Except that in such cases, the array of Stunt Vehicles to choose as extreme stunt performer, includes the Collectable Vehicle that set-off the Nitro Jump event.