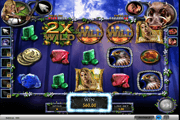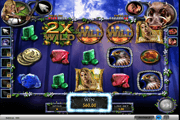 Nordic Heroes Online Slot with Combination RPG and Free-Spins Battle Bonus Game
Nordic Heroes is a 5-reel, 30-payline online slot by IGT that combines role-playing game (RPG) of battling adversaries, as means of prolonging a round of Free-Spins Battle Bonus Game. Slot players can spin the reels free for as long as their Nordic Heroes character remain undefeated during a simulated encounter against evil lords and wretched beasts.
Nordic Heroes Online Slot Base Game Features
Slot players initially assume the role of a maiden warrior named Thora while the reels are set in the Forest of Fortune Realm. During Game Levels 1 to 5, the Base Game high-paying symbols are the Thora, Ice Arrow and the Falcon icons. The images award 1,000, 500, and 250 respectively for every 5-of-a-kind matched symbols in any payline.
[/CBC]

Those Base Game high-paying symbols will be replaced by a new set of reel images, once slot players elevate to Level 3; albeit awarding the same number of coin rewards. The Level 3 Base Game icon replacements include Ragnar, his Ice Hammer, and his Wolf fylgjur or guardian spirit. In the Level 3 Battle Bonus Game, the Ragnar character will also be the Nordic Hero battling against the forces of evil. Players though have the option to continue playing as Thora by clicking on her image in the Character Picker menu.
Nordic Heroes Online Slot Free-Spins Battle Bonus Game
This special game segment launches whenever three (3) Bonus Game Symbols appear simultaneously in Reels 1, 3 and 5. In addition, players immediately receive a Bonus Reward equivalent to twice the Total Bet staked per spin.
The Battle Bonus Game is played via a new set of reels, using a different set of lesser-paying but frequently appearing icons. Players should take note of the Thora/Ragnar character image above the screen, as the section now includes a Battle Tableau. The result of simulated battles between a Nordic Hero and his/her adversaries determines the number of free-spins in play.
Nordic Heroes free-spins players can play continuously by defeating adversaries and/or for as long as the hero's health remains intact.
During each skirmish, Battle Bonus Game players earn Experience (XPs) needed in order to level up. Doing so will enable them to unlock new weapons, new characters, new battle realms, and most importantly, higher Multiplier factors of up to 35x. Moreover, online casino slot players playing Nordic Heroes via their online gaming account have the chance to increase permanently, the related paybacks once they have attained higher game levels.
The higher the game level, the stronger the Nordic Heroes slot character becomes. This denotes that players have greater chances of having more bet-free spins with which to play in every Battle Bonus Game activated.
The Battle Bonus Game becomes more intense and highly rewarding once the Free-Spins Round reaches the Sea of Glory Battle Bonus. Big, Big Wins could be hit with the guaranteed emergence of a Wild Reel in any column during the Crab Battle. Undefeated slot players may reach the Squid Battle in which Reels 1, 2, and 3 turn into Wild Reels. More so in the Sea Serpent Battle as Reel 5 may also transform into a Wild Reel in addition to those that emerge in Reels 1, 2, 3, or 4.