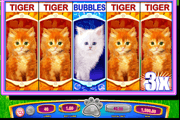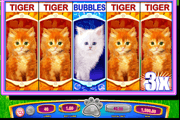 OMG! Kittens Online Slot – Three Little Kittens Land Big Wins!
OMG! Kittens is a 40-payline online slot from Williams Interactive, now delivered to online casinos in collaboration with SG Interactive. Three adorable little kittens named Tiger, Bubbles, and Mr. Whiskers appear as full reel images. Although evaluated as a single icon, they tend to cover all paylines once they come out as one-of-a-kind winning matches or combine as mixed winning combos.
If any of those three wee felines fill up Reels 1, 2, 3, and 4 along with the OMG Free-Spins Symbol in Reel 5, a bonus game player is bound to experience a very exciting round of free games. Even greater still is that the Bonus Game guarantees surefire winnings of at least 10x the current Total Bet, no matter what.


Landing on 5-of-a-kind combination of any Kitten brings rewards equivalent to 1000x the Bet staked per line. Three or four matched full-reel kitten images bring lucrative returns as well, as the corresponding payouts for those combinations are at 200x, or 400x the Line Bet. The great news is that if the reels return with an assortment of Kitten images in 3 or more reels, payouts of 100x, 250x, or 500x the Line Bet will awarded.
Another terrific feature in both base and bonus games are random multipliers of 2x, 3x, 5x, 10x, or 100x that a Kitten Symbol may display after a spin. A winning full-reel Kitten combination coinciding with an emerging multiplier will pay rewards in fold accordingly.
This OMG! Kittens game though does not have a Wild Symbol. Yet once slot players get into the reel-spinning action, they will find the lesser paying icons easy to land on as matched symbols in any payline. Milk, Yarn Ball, and Kitty Collar images correspondingly award uniform pays of 5x, 20x, or 75x the Line Bet on every 3, 4, or 5 identical images. Moreover, this slot game awards Scatter Pays on Fish/Cat combos appearing in any row or reel.
OMG! Kittens Scatter Symbol
The Fish/Cat icon represents the base-game Scatter Symbol. Scatter Pays of 50x, 250x, or 1000x the Line Bet are awarded regardless of where three, four, or five Fish/Cat icons are positioned.
OMG! Kittens Bonus Game Symbol
The full-reel OMG! Free Spins emblem is a Bonus Game Symbol that takes position only in Reel 5. In order to trigger the Free-Spins Round it has to appear in combination with any four Kitten images .
Once the bonus game is activated, the four Kitten icons plus the OMG Free-Spins Symbol earns players an instant bonus reward of 250x the Line Bet.
OMG! Kittens Free Games
The OMG! Kitten Free Games award more than just bonus spins. Tiger, Bubbles and Mr. Whiskers has individual win-boosting features that come into play if their respective image forms part of the Bonus Game trigger combo. Initially, five (5) bet-free spins will be activated, and any of the following boosters will enhance the Bonus Reels:
Tiger triggers the Kitten-Win Multipliers. One, two, three, or four Tiger icons constituting a Bonus Combination, correspondingly activates a 2x, 3x, 5x, or 10x Kitty-Win Multiplier during the free round.
Bubbles awards additional free-spins that extend the bonus round beyond the initial 5 free games. One, two, three, or four Bubble images forming part of the 5-symbol Bonus Game combo generate 5, 10, 20, or 45 additional free spins.
Mr. Whiskers bestows Bonus Scatter Pays every time the image emerges in any position across the Bonus Reels. Scatter Rewards of 50x, 100x, 200x, or 400x the Line Bet are determined by the number of Mr. Whiskers Symbols that triggered the OMG! Kitten Bonus Game. During the round, the number of Mr. Whiskers in view after a bonus spin, multiplies the specified Scatter Win value.