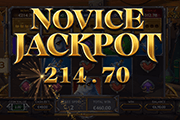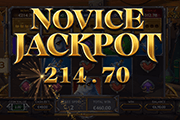 Ozwin's Jackpots Online Slot : 5 Progressive Jackpots at Stake in Free-Spins Bonus Round
Ozwin's Jackpots is a 20-payline online slot to which Yggdrasil Gaming added five (5) Progressive Jackpots as ultimate Free-Spins Rewards. The Free-Spins Jackpot Round activates in two different ways. One is by collecting Crystals of the same color during base game sessions. The other is by landing 3 Free-Spins Symbols via a single spin.
Once in the free round, all winnings will increase threefold (3x), while Orb icons come around as Collectible Symbols. Each Orb represents a Progressive Jackpot. Collecting 5 Orbs corresponding to a prize money will trigger the release of the current value at stake.
In the meantime, while spinning to hit 3 Free-Spins Symbols or to complete a Crystal Collection, Ozwin's Jackpot players may activate another bonus feature, the "Spellbook Bonus Game." The latter will give players a chance to collect guaranteed coin wins and/or Crystals by simply revealing the prize hidden behind each Spellbook.


The Owl icon is the highest paying image. It awards 70, 250, or 4000 coin credits on a 3, 4, or 5-of-a-kind payline match. This game though, has no Wild Symbol to offer as substitute element; indicating that only identical images will land as contents of a payline win.
Ozwin's jackpots Online Slot: Spellbook Bonus
Three or more Spellbook Symbols activate a Pick Bonus Game. Landing on 4 or five is better, because additional Coin rewards of 1,000 and 10,000 respectively, will be awarded.
Eighteen (18) Spellbook icons will be presented, each with a hidden coin prize or Crystal to reveal. The range of coin credits awarded as guaranteed bonuses, is from 20 to 1000. Five (5) Crystals of each color can also be unraveled and claimed as bonus prize. However, one Spellbook may reveal an Evil Edition, which if selected and revealed, will end the bonus game.
Ozwin's Jackpots Online Slot: Free-Spins Jackpot Round
This main bonus feature activates either by way of Crystal Collections or via Free-Spins Bonus Symbols.
Crystal Collection Feature – During base game spins, filling up a Jackpot Meter with one-of-a-kind crystals activates the Free-Spins Bonus Round. In such instances, only the Jackpot Meter of the winning Crystal resets. The rest will retain all unused Crystal icons; giving players greater chances of completing Crystal Collections that can activate another Free-Spins Jackpot Round.
Ten (10) Jackpot Free-Spins will be awarded. The 5 identical Crystal icons, on the other hand, will transform into a Collectible Orb of the same color. The corresponding Free-Spins Jackpot Meter therefore, will automatically display one (1) Orb.
Free-Spins Symbols appear in any reel. Three or more occurring as outcomes of a single paid spin, will set off the Jackpot Game. Similar to the Spellbook icon, landing on 4 or 5 is better, because an additional 1,000 or 10,000 coin-credit will be awarded. Still any number of Free-Spins Symbols activating the Jackpot Round, garners 10 bonus spins.
Orb Collection Feature – Orb totems are also Collectible elements but they appear only in the Jackpot Game. This time, same-color Orbs instead of Crystals fill the Jackpot Meters displayed above the reels. Once a Jackpot Meter fills with five (5) same-color Orbs, the prize money corresponding to that Meter will be awarded.
Ozwin's Jackpots Game Info states that it is possible to fill more than one, or even all Orb Jackpot Meters during a single Free-Spins Round.
Ozwin's Jackpots – The five major prizes at stake in the Free-Spins bonus game, comprise the Novice, the Apprentice, the Mystic, the Wizard and the Archmage Prizes. Each prize pool starts with a seed money of 40, 200, 600, 1,000 and 10,000, respectively. During paid spins, Jackpot values grow progressively, since a portion of every bet staked goes to the Jackpot funds.