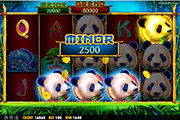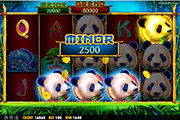 Panda's Fortune Online Slot: Bet on Spins that Could Win Jackpots Repeatedly in a Single Session
Panda's Fortune online slot by Pragmatic Play awards a Grand, a Major, or Minor Jackpot when any spin produces a certain type of 5-of-a-kind combination. Awesome even is that the Jackpot offer still stands during free games, greatly intensifying the excitement of raking in bet-free wins. The jackpot offer is not for just one win event, as it is possible to collect a Jackpot several times over during a playing session.
Actually, a lot of positive elements are present in this Asian-inspired game. Stacked Panda Wild Symbols frequently appear in more than one reel; boosting chances of striking multiple payline hits via a single spin. In the Free Round, a Lantern image occurs in multiple as Mystery Symbols. Once a free spin completes a turn, all Lantern icons across the grid transforms into a single type of element, including the Panda Wild.


Panda's Fortune Online Slot: Wild Symbol
Panda Wilds appear only in Reels 2, 3, 4, and/or 5, and configured as stack of images in a reel. As a wild card, any Panda icon aligning with alike symbols within a pay pattern can pose as eligible component.
Panda's Fortune Online Slot: Jackpot Feature
Three main prizes are at stake at Panda's Fortune slot. A Grand, a Major and a Minor Jackpot; each with cash values equivalent to 800x, 200x, and 25x the current Total Bet, respectively. All Jackpots can be won by landing on a five-of-a-kind combination conforming to any of 25 available pay diagrams; but, with certain specifications.
One such requirement is the inclusion of a Golden Version of the winning symbol, which takes position only in Reel 5.
The Grand Jackpot – requires landing on 5-of-a-kind grouping consisting purely of a high-win image, such as the Butterfly, Lion, Frog, Fish or Tree Symbols. The combination must include a Golden Version of the Image as 5th element.
The Major Jackpot can be won via a 5-of-a-kind combination comprised only of any of the low-win A, K, Q, J, 10, and 9 icons. In the same way, the arrangement must include a Golden Version of the element as 5th component.
The Minor Jackpot albeit having the least cash equivalent comes with a less rigid condition. Any symbol, whether of the high or low win type, landing as 5-of-a-kind combination, even if completed with the help of Panda Wilds, garners a Minor Jackpot. Similarly, the 5th winning component must be a Golden Version.
The Minor Jackpot is apparently easier to achieve in light of the Stacked Panda Wilds that tend to appear in multiple via a single spin. That being the case, the prize money can be won repeatedly in both base and bonus games, up to a maximum of 25 times during a single Panda's Fortune playing engagement.
Panda's Fortune Online Slot: Free Games
Keep an eye on the Yin and Yang Bonus Symbol , as landing on three (3) or more of the icon activates the Free Games. Three, four, or five Yin and Yang icons anywhere across the grid, correspondingly award 8, 10 or 15 free spins. Moreover, Yin and Yang combos accordingly garner Scatter Pays equivalent to 2x, 15x, or 100x the Total Bet.
The Yin and Yang bonus symbol still appears during the bonus bout. A bonus spin producing any number of this icon, will set off five (5) additional Free-Spins. Panda's Fortune online slot has no set limit on the number of times a free round may extend.